Posted on
Tue, Aug 20, 2013 : 5:20 p.m.
Attorney charged with sexual assault is being investigated for 'other crimes'
By John Counts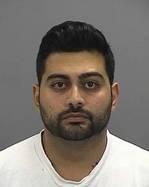 Courtesy of WCSO
More details emerged in court Tuesday concerning Nader Nassif, the former Ann Arbor Downtown Development Authority board member and 15th District Court defense attorney charged with sexual assault.
Attorneys alluded that Nassif is still being investigated and that drugs were seized during the execution of three warrants on July 31, Aug. 1 and Aug. 2.
One of Nasiff's lawyers, Jill Schinske, was arguing against the prosecution using information obtained from her client's cellphone and computer and said the prosecutors were going through the communications while investigating "other crimes."
Shinske also referred to drugs that were seized at the time the warrants were executed.
Ann Arbor police did not want to comment on any further charges.
Shinske and Nassif's other attorney, Joe Simon, argued that because there was correspondence between Nassif and clients on his phone and computer, prosecutors would be violating the attorney-client privilege.
The law firm where Nassif is a partner, Model Cities Legal Services, is contracted to provide representation to indigent clients in Ann Arbor's 15th District Court. Nassif is no longer being appointed to cases, officials told AnnArbor.com last week.
Schinske and J. Cedric Simpson, the district court judge in the case, locked horns on what argument the defense was trying to make, whether or not the search warrants were "over broad" and "defective," the way the defense put it in a motion, or if the evidence itself — the emails and text messages — violated the attorney-client privilege.
"Do not play games with me," Simpson said at one point. "I'm not going to get into the wordsmithing with you."
Washtenaw County Chief Assistant Prosecutor Steven Hiller pointed out that the search warrants were properly issued by a magistrate.
Simpson eventually ruled that the defense needed to clarify this point for the next hearing, set for Sept. 5. At that time, the judge could rule if the evidence obtained from the search warrants is admissible for the preliminary examination.
Another issue argued at Tuesday's hearing is also related to Nassif's standing in the local legal community. Simon said that there might be a conflict of interest for the Washtenaw County Prosecutor's Office — and specifically Assistant Prosecutor J. Samuel Holtz, who has been assigned to the case.
Simon said there is a conflict with the prosecutor's office because there are still active cases Nassif was once assigned to that the prosector's office is prosecuting. He also said that there is a " social, personal relationship between the accused and the prosecutor."
Simon has yet to file an official motion on the matter, but it could be raised again at the Sept. 5 hearing.
Hiller protested the claim.
"We have prosecuted other attorneys from this community," Hiller said. "There is no reason for our office to be disqualified from this case."
Getting all the information in a timely manner to all parties involved was another issue Tuesday and Simpson ordered that all motions needed to be filed by noon Aug. 26. Responses to the motion need to be filed by midnight Aug. 30. Simpson said he could rule on any motions Sept. 6, a day after hearing the oral arguments.
Nassif is facing a third-degree criminal sexual conduct count. The charge indicates the alleged victim in the case was incapacitated and sexual penetration took place, according to the complaint. Nassif knew or had "reason to know that the victim was mentally incapacitated and/or physically helpless," according to the complaint.
The alleged incident took place July 31 in his apartment in the 200 block of South Fourth Avenue. Nassif resigned from the DDA this month.
John Counts covers cops and courts for AnnArbor.com. He can be reached at johncounts@annarbor.com or you can follow him on Twitter.