Posted on
Fri, Aug 30, 2013 : 5:58 a.m.
Move-in day sees almost twice as many intoxicated U-M students needing medical treatment as 2012
By Kyle Feldscher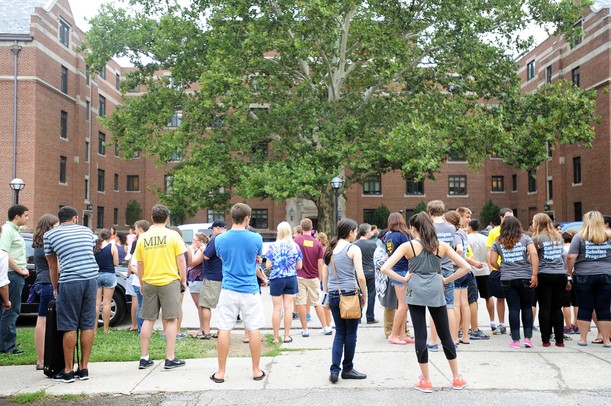 Brianne Bowen | AnnArbor.com
Editor's note: This story has been updated with corrected information about the Eastern Michigan University crime log.
On Wednesday, the first University of Michigan freshmen got to move into East Quadrangle, 701 E. University Ave., for the fall semester.
Move in started at 8 a.m. at East Quad. Nearly nine hours later, at 4:53 p.m., University of Michigan Police and medical personnel received the first call to take an intoxicated student to the hospital.
It was the start of a busy Wednesday evening and Thursday morning of the first big move-in day on campus. A total of 19 people came into contact with the University of Michigan Police Department Wednesday night and Thursday morning for alcohol-related incidents, up from eight on Aug. 29 and Aug 30 (the Wednesday night and Thursday morning of move in) last year.
During the entire welcome weekend last year, eight people were cited for being minors in possession of alcohol by U-M Police and nine intoxicated students had to be taken to the hospital. Ann Arbor police issued 112 tickets for MIPs, open containers, urinating in public and disorderly conduct during 2012's welcome weekend, Lt. Renee Bush said.
According to the UMPD's daily summary, nine students were transported to the University of Michigan Hospital's emergency room between 4:53 p.m. Wednesday and 4:30 a.m. Thursday. Another two people not affiliated with the university also needed to go to the hospital for being intoxicated. That's more than double the five who went to the hospital on the corresponding days in 2012.
U-M Police Chief Joe Piersante said police are ready for the increase in action.
"First, we want to be sure students receive appropriate medical attention if they have over-consumed," he said. "Additionally, we do expect increased enforcement action as our campus population returns."
Police arrested two people for being minors in possession of alcohol and eight people were involved in alcohol violations that will be handled internally by University Housing staff, according to the summary.
Joyce Williams, spokeswoman for Huron Valley Ambulance, said the agency's paramedics are ready for the uptick in calls to Ann Arbor now that students have returned.
"We're prepared on a regular basis, but we're certainly aware of the trends," she said regarding HVA staffing levels during students' first week back. "Especially for the football game, we put a lot of extra staff on because we're not only dealing with intoxicated people, we have the heat to be concerned about."
Some U-M freshman students began moving into dorms on Tuesday, but Wednesday was the first day many dorms were open. Move in continued on Thursday for freshman, and all remaining students will move in on Friday.
Eastern Michigan University students do not start moving in on campus until Aug. 31, according to the university's website. Two alcohol-related incidents were reported on Thursday, one at 12:40 a.m. on West Cross Street in which an intoxicated person was transported to the hospital. The other incident at 9:39 p.m. involved an intoxicated person talking to women as they passed by at the dining commons, according to EMU's daily crime log.
The two arrests made by U-M police took place at 8:06 p.m. and 11:21 p.m. Wednesday. In the first incident, an underage student was found sleeping in a stairwell at the Glen Carport, 300 Glen St. The student was arrested for an MIP and released pending authorization of a warrant.
The second arrest was made in the 2100 block of Hubbard Street. Two staff members were attempting to help an intoxicated student — who would be taken to U-M Hospital by ambulance — when they were assaulted by a second person. The second person was arrested for MIP and then also taken to U-M Hospital for treatment, according to police.
At U-M, Housing Security in the Mary Markley Residence Hall broke up a large party, 1503 Washington Heights, at 9:27 p.m. Tuesday. Alcohol was dumped and minors were present, but staff will handle that incident internally, according to police.
Police and medical personnel also responded to Mary Markley later in the night to treat an intoxicated student, as well as to Mosher-Jordan Hall, 200 Observatory St.; Bursley Hall, 1931 Duffield St.; and the 1700 block of Murfin Street.
The final ambulance run of the night came at 3:07 a.m. on Hill Street, when an intoxicated student was taken to U-M Hospital. Williams said that fits with the range of the unpredictable student populace.
"We have such a range (of times HVA makes runs), every day is so different," she said. "It's dependent on many different factors. We have people who are continually picked up for being intoxicated and they don't always have the same pattern."
She added: "Students don't have a set pattern, and most of that is pretty erratic except for the uptick when the students come back."
Kyle Feldscher covers cops and courts for AnnArbor.com. He can be reached at kylefeldscher@annarbor.com or you can follow him on Twitter.