Posted on
Tue, Mar 5, 2013 : 12:28 p.m.
Officers describe grisly crime scene as husband faces trial in wife's stabbing death
By Kyle Feldscher
Jean-Pierre Trias stabbed his wife with two different knives, leaving her bloodied, bruised and lifeless body in a bathroom, police investigators testified in court Tuesday.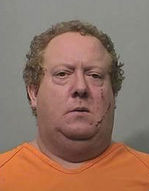 Courtesy of the WCSO
Trias, 44, was ordered to trial on one charge of open murder, by 14A District Court Judge Richard Conlin. The decision came after nearly two hours of testimony at a preliminary exam, describing Katherine Porter's death and laying out some of the evidence against Trias.
Pittsfield Township police Officer Shawn Vargo and Officer Aja Pattwell testified they arrived on Jan. 11 at the couple's home in the 4700 block of Hickory Pointe Boulevard to check on Trias. Vargo said dispatchers told him Trias called his brother earlier that day and said he blacked out the night before, had injuries on his face and didn't know if he hurt anyone.
Vargo and Pattwell went to the door and Trias answered, inviting them in. In seconds, the case went from a well-being check to a homicide investigation.
"Blood on the vanity, blood on the floor, blood on the walls … with the knife in her stomach still," Vargo said, describing the scene in the home's bathroom.
"There was blood everywhere," Pattwell said later.
Vargo and Pattwell both testified Trias told them when he opened the door that he believed they were there to arrest him for what he did to his wife. However, audio played by Trias' lawyer, Joseph Simon, could not confirm that testimony. Trias can be heard saying "You're going to arrest me now?" immediately after Pattwell notices Porter's body, which was wedged between the vanity and the wall. A 20-second clip played multiple times in court was interrupted by police scanner traffic.

Huron Valley Ambulance paramedic Matthew Yono pronounced Porter dead after checking for a pulse and examining her reflexes.
Dr. Bader Cassin, Washtenaw County deputy medical examiner, said there were bruises, superficial cuts and three or four injuries that appeared to be bite marks on Porter's body.
"My conclusion was she died from multiple stab wounds produced by two blades," Cassin said.
It's unknown at this point exactly how many times Porter was stabbed.
Cassin testified the wounds on Trias' face, evident in his police mugshot from the case, are consistent with scratches from fingernails.
"They have the configuration and pattern of the dragging of a relatively sharp instrument, such as a fingernail," Cassin said.
Simon declined to comment on the case after the hearing. Washtenaw County Assistant Prosecutor Nimish Ganatra served as the state's representative in the case.
There was no testimony Tuesday about what transpired in the moments before Porter's death. Nothing in Tuesday's testimony revealed a possible motive for the stabbing. Trias and Porter had been married since August 1995.
Trias filed for divorce in November 2010, but the couple reconciled. No evidence presented at this point has shown a history of domestic violence in the couple's relationship.
Trias is a former employee of Eastern Michigan Univeristy, where he worked from September 2003 until Dec. 31, 2012, in the mathematics department. University officials said he worked off and on at the university and held a part-time position as a coordinator of math tutoring and testing services. He also worked as a graduate assistant.
A pretrial hearing was scheduled at 1:30 p.m. April 16 in front of Washtenaw County Trial Court Donald Shelton. Trias is being held without bond in the Washtenaw County Jail while the case is pending.
Kyle Feldscher covers cops and courts for AnnArbor.com. He can be reached at kylefeldscher@annarbor.com or you can follow him on Twitter.