Posted on
Fri, Jan 4, 2013 : 5:57 a.m.
Organizers of New Year's party where brawl broke out: 'That's not what we're about at all'
By Kyle Feldscher
Obie Iyoha and Will Fairbanks organized a New Year's Eve party to debut Iyoha's first mixtape at a warehouse on Ann Arbor's North Main Street.
But a brawl that started during and outside the party by people they say didn't even buy tickets to the event has them frustrated their group is now linked with the incident.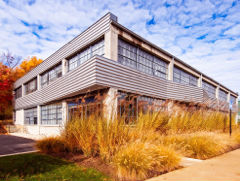 Courtesy of ptallen.com
Ann Arbor natives Fairbanks, 23, and Iyoha, 22, make up the core of hip-hop collective Metal Apes and threw the party at 1215 N. Main St. on New Year's Eve, where a fight sent three people to the hospital. The duo said they'd been planning the party since October as an opportunity to showcase Iyoha's music and to spread their message.
Instead, the party has become known for the brawl that took place outside the warehouse after the event was over.
"We're just artists, at the end of the day," Fairbanks said. "We're not thugs. We're not gangsters. We're not people who cause problems. We just want people to hear our music and know what we're about, and that's not what we're about at all."
Ann Arbor police responded to the warehouse at 1:41 a.m. Tuesday for a report of a large fight, which appeared to be over by the time they arrived. A short time later, police were told an 18-year-old Ypsilanti man and a 20-year-old Warren man were being treated for lacerations at St. Joseph Mercy Hospital. Not long after that, police were told by officials at University of Michigan Hospital a 22-year-old Ann Arbor man was being treated for lacerations and bruising.
All of the men reported their injuries occurred during a fight that started at the warehouse where Metal Apes hosted the party.
The event began at 9:15 p.m. and was only meant for people ages 18 and older, Fairbanks said. Metal Apes hired a company to work security and bouncers were checking identification at the door, making sure the partygoers who had bought tickets ahead of time didn't bring in alcohol.
A Facebook event set up for the evening states alcohol would be present, but Fairbanks denied alcohol was served to people at the party, stating he and his team had alcohol but it was only meant for them. He said Metal Apes had the proper permits to use the warehouse for the party, having worked with Doug Allen, the building's property manager. The building is owned by Peter Allen and Associates.
The party went fine up until the moments leading up to midnight.
"I was releasing my debut mixtape called Low Key and we had it set up so there would be a performance leading up to New Year's," Iyoha said. "That went pretty well until things started to get out of control. We were going to end at 2 a.m. and we ended up cutting it off at 12:45 a.m. because they just had to get out."
Fairbanks said he was approached after midnight by the man he'd hired to do sound for the event and was told the party was starting to get out of hand. According to Fairbanks, some unknown men who hadn't bought tickets to the event somehow got in and were causing trouble. Some fights reportedly broke out inside the warehouse, according to police.
"They were not affiliated with us at all," Fairbanks said. "I don't even know how they got in. That's something I'll have to talk to my security about. "
The duo announced the party was over and security began escorting people outside. In the winter cold, the tension escalated and a full-on brawl soon began. Fairbanks said he pulled his team of approximately nine people, who were helping throw the party, back into the warehouse and shut the door before calling police.
To this point, no one has been identified as a suspect in the brawl. The injured men told police they didn't get a good look at the people who struck them. Fairbanks said he wasn't sure who the people were that started the dramatics or what exactly started the fights.
"Those people don't know how to have fun and they come looking for issues," he said.
The duo decided to throw the party at the warehouse after identifying the space during a drive on North Main Street. They met with Allen and filled out the proper paperwork provided by the property manager. The security company, Schema League LLC., took care of insurance and permits, Fairbanks said.
Metal Apes became a Limited Liability Company about three weeks before the party, according to Fairbanks. He said the decision to do that was unrelated to the event.
Allen is looking for someone to lease the warehouse space but hasn't found a tenant. Fairbanks said he'd been told by Allen the building was rented out for parties before and this wasn't an unusual event. Allen told AnnArbor.com Wednesday that Metal Apes had done everything properly and fulfilled their end of the agreement.
"They were just trying to have a good party for their friends," he said. "My clients I rented to … did their part to make sure it was safe and secure."
The investigation into the brawl is on-going and Fairbanks and Iyoha met with Ann Arbor police detectives Wednesday to tell them their version of events.
For Iyoha and Fairbanks, the party was just a means to promote their music. The fact that their name is now associated with a party where a brawl sent three men to the hospital continues to bother them.
"The goal of the party was to promote his mixtape and we're campaigining on that through April," Fairbanks said. "It's frustrating because the publicity is all negative and that wasn't even affiliated with Metal Apes, and now Metal Apes has this taint and we were just trying to get the music out there."
Cops and courts reporter John Counts contributed to this story.
Kyle Feldscher covers cops and courts for AnnArbor.com. He can be reached at kylefeldscher@annarbor.com or you can follow him on Twitter.