Rich Kinsey - Semper Cop
Column:

Own your own 'trigger words' and they might not wound you

Posted on Thu, Apr 7, 2011 : 5:56 a.m.
Take a look inside yourself and think for a moment. Are there words that when uttered around you cause an immediate emotional response? Are there names, epithets, descriptions, or generalizations about you that either hurt your feelings or make you want to fight?
After reading this, they will not have the same effect on you again.
What I have been describing are termed "trigger words." The use of these words can ruin the careers, reputations and irreparably alter the lives of those who utter them.
Similarly some words can shatter the lives and break the hearts or spirits of those on the receiving end them.
George Thompson the English professor turned cop who established the Verbal Judo Institute put it this way: "Sticks and stones can break your bones but words will break our hearts."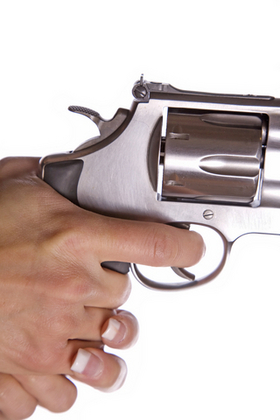 One of the exercises that police officers who are trained in Verbal Judo are taught is to write on a small piece of paper their own trigger words. They are told to put them away in the recesses of their wallet or anywhere that no one else might find them. Once they have completed this exercise, they "own" those words.
If you can think of your own trigger words you can use them to your advantage. If someone uses those words in your presence understand that you are vulnerable to your emotions. Realize that the person who has just uttered those words, tried to take the most vicious verbal jab at you. Short of actually physically striking you, that person either consciously or unconsciously has tried to hurt you.
Instead of getting emotional or angry, which is the natural response, it is time to get "tactical." Try to figure out why this person has felt the need to hurt you or knock you off your game. If it is a friend or loved one, who knows what buttons to push to make you angry, this can be especially traumatic, but instead of blowing up you must ask—WHY?
By remaining calm and not reacting to the verbal punch of a trigger word you have now taken the tactical advantage over the person who tried to hurt you. You have effectively disarmed the person.
That person has taken their best verbal shot at you and it had no effect. This is like getting into a physical fight with someone, taking your best shot and finding it has no effect—it is disheartening, scary and means you are in for a really bad time. Not reacting to trigger words is powerful. Sometimes you can actually see a shocked look on the face of the person who has insulted you. Their mind is trying to process why the words had no effect and what to do next.
Meanwhile instead of reacting emotionally to trigger words your mind should be busy trying to figure out what caused this person to try to upset you. Understanding what is actually going on can assist you in solving the real problem you are confronted with. If you are in a professional role such as a police officer and someone tries to verbally abuse you, realize that the verbal assailant is speaking to the uniform and not you personally because they do not know you as a person.
A verbally abusive citizen is trying to get a police officer to do or say something stupid, embarrassing or abusive in hopes that the officer will then not be able to take enforcement action for fear of generating a citizen complaint or getting chewed out by a boss. This tactic rarely works and begs stricter enforcement by the officer.
If it is a co-worker, friend or family member who is slinging the trigger words it is time to figure out what caused this? Was it something you said, did or did not do that is causing the anger? At that point if you can fix it—fix it. Do not scold the person for their inappropriate verbal abuse because that will just cause another argument. Instead explain your actions, apologize or agree to disagree and walk away. It may be hard to do, but sometimes "dynamic inactivity" or walking away gives the time and space necessary to calm all parties and put things in perspective in order to work toward a solution.
The more control you have over your personal trigger words the less power you give someone trying to upset you.
Lock it up, don't leave it unattended, be aware and watch out for your neighbors.