Sheriff's deputies recover stolen 1966 Chevelle, arrest suspect
Posted on Thu, Sep 27, 2012 : 4:37 p.m.
The owner of a 1966 Chevrolet Chevelle reported stolen after a home invasion Monday in Ypsilanti Township reported that the car was recovered and a suspect was arrested Wednesday.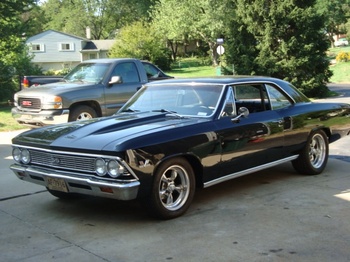 Courtesy of Jim Black
Jim Black told AnnArbor.com Thursday he received a phone call from the Washtenaw County Sheriff's Office informing him the 1966 Chevrolet Chevelle stolen from his home in the 2200 block of Valley Drive was recovered, along with tools taken from the home. A man was arrested, Black said police told him.
"It was a terrible thing that this guy did to my home and property, but like I told the officer, he picked on the wrong house," Black said in an email. "I wanted the buck to stop here. Maybe the next person won't have to deal with it."
Black's home was entered when a man smashed a sliding glass door sometime in the 24 hours before it was reported on Monday. The man ransacked the home, stole tools and drove away in the Chevelle, according to the sheriff's office.
Sgt. Geoffrey Fox, of the sheriff's office, confirmed the stolen items were recovered and multiple suspects were in custody. Further details were not immediately clear.
Black, who retired from the GM Powertrain Willow Run plant in 2006 after more than 30 years, said he was in Alabama at the time of the incident. Black has owned the Chevelle since 2005 with the hope to bring it to Alabama, where he vacations to be closer to his family.
He said he's lived at his home on Valley for 28 years and never had an issue until Monday.
"Folks need to know this is still a great place," he said.