Posted on
Thu, Jun 14, 2012 : 5:59 a.m.
Afraid for his life, Pittsfield Township man pulled gun, killed acquaintance
By Kyle Feldscher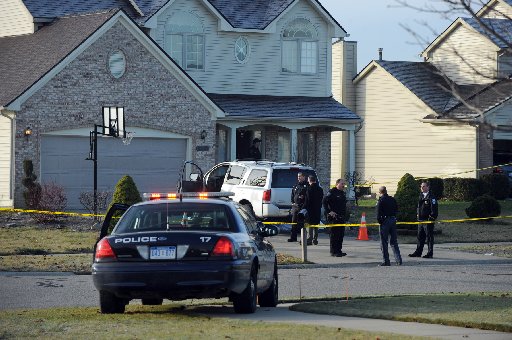 Editor's note: Information about the Offender Tracking Information System has been clarified in this article.
The morning of Dec. 2, 2009, seemed like any other at the Farha family home in a middle-class Pittsfield Township subdivision.
Adham Farha went outside to smoke a cigarette. His son watched Spongebob Squarepants on TV while his wife searched for a hat for the then-Lawton Elementary School student to wear. Even though it had been a relatively mild autumn, the temperature had cooled as December rolled in and, if the boy was going to stand at the nearby bus stop, he needed a hat.
Minutes later, as children waited at the school bus stop across the street, the quiet neighborhood was shattered by gunshots. Farha had jumped out of his Nissan Armada, parked in the driveway of his home and — as the children watched — fired numerous shots inside, killing Michael Rajchel, who was sitting in the front passenger seat.
Farha told police it was self-defense. He said he had a bad feeling when Rajchel showed up uninvited in his driveway and thought the man "looked like a killer."
Justifiable homicide series

The accompanying story is part of a larger, in depth look by MLive Media Group, of which AnnArbor.com is part of, at the use of deadly force in self-defense in Michigan. You can read other stories in the series at the "Justified to Kill" blog.
The two men had gotten inside Farha's SUV to talk. When Rajchel reached for the gun tucked inside his waist band, Farha did not hesitate to fire, according to a police report obtained by AnnArbor.com.
Farha described the incident in an interview with Pittsfield Township police Detective Lt. Sean McCormick.
"While Mike was leaning backward (in the passenger seat) he stated that, 'This is your last day to live,'" McCormick wrote in the police report. "Farha stated he did not know how many times he shot Mike but that he feared for his life."
AnnArbor.com revisited this case, one of two shootings ruled to be justifiable homicides by civilians in Washtenaw County since 2000, as a part of MLive Media Group's statewide look at justifiable homicides. Three other Washtenaw County killings -- all involving law enforcement officers -- were ruled justifiable homicides by prosecutors during that same time frame, according to prosecutors and Michigan State Police data.
Farha did not respond to a request for comment for this story. AnnArbor.com spoke to Janusz Rajchel, Michael Rajchel's father, and he said his family is still very hurt by the incident. However, Janusz Rajchel did not wish to speak further about his son's death.
Pittsfield Township Public Safety Director Matt Harshberger directed all questions about the case to the police report.
According to township records, Farha no longer owns the home on Rockport Court.
The two men
The relationship between Farha and Rajchel was complicated and unclear — they were alternately said to be good friends with a business relationship and sometimes acquaintances who had been out of touch for years before that morning.
Farha owned One Stop Collision in Garden City and Rajchel listed the body shop as his place of employment and Farha as his supervisor on a previous apartment application, according to the report.
Relations between the two men soured when Rajchel's apartment in Detroit was broken into, according to Abdul Ghdier Elkhoja, a friend of the two men. Elkhoja told police Rajchel blamed him and Farha for the break-in, even though Rajchel later apologized.
Farha has no records listed on the state of Michigan's Offender Tracking Information System, which shows information about offenders who have been under the jurisdiction or supervision of the Michigan Department of Corrections within the last three years.
Scott Mayol, Rajchel's friend since his days at Belleville High School, told police the break-in occurred when Rajchel was in jail following an arrest. Mayol said no one other than Farha knew Rajchel had been arrested.
Multiple people interviewed by police said Rajchel confronted Farha about the break-in, about a year before the fatal shooting. During that confrontation, Farha allegedly pulled a gun on Rajchel, but didn't use it.
"Rajchel told Farha that the next time he pulls a gun on him that he better use it," the police report stated.
Rajchel's ex-girlfriend Shelley Berrien told police Farha had made sexual advances toward her and Rajchel consistently loaned him money, according to the police report. Multiple witnesses alleged Rajchel was involved in fraudulent activities involving selling and reselling cars, the report revealed.
Marta Rajchel, the victim's sister, said her brother spoke about people owing him money. "She said her brother mentioned that people owed his business money," the report stated, "but he never specifically stated who owed him money, how much and for what."
But in his interview with McCormick, Farha said he hadn't seen Rajchel in three years and had no idea why he would be at his Pittsfield Township house. Farha was getting ready for work — he couldn't find the keys to his business and was ready to enjoy a morning cup of coffee and a cigarette.
The morning in question
Susan Hernandez was passing out literature with some of her fellow Jehovah's Witnesses at a Mobil gas station at Ecorse and Haggerty Roads in Wayne County's Van Buren Township on Dec. 2, 2009. She approached two men who appeared to know each other, through they were in separate cars, and produced a copy of the magazine The Watchtower.
One of the men walked away and went inside the convenience store, but the other started talking to her, Hernandez told police.
She asked the man who stayed if he was interested in reading the magazine and engaged him in conversation. The man, who called himself Mike, suddenly told Hernandez he was on his way to kill a man.
"Mike said, 'Actually I am on my way to kill a man, should I stop?' Hernandez indicated she replied, 'Don't you think a decision like that belongs to God?'" the report states. "Mike responded, 'Well, I don't have God in my life.'"
The man gave Hernandez about $10 for the magazine and told her to keep the change as a donation. According to the report, she saw him reading it a little while later.
Hernandez told police the car had a large sticker in the back window and a "Victory Toyota" license plate holder; those same items were on the car Rajchel drove to Farha's house that morning, according to the report.
The confrontation
Farha told police he found Rajchel standing in his driveway when he went outside for a cigarette. Rajchel told him to get in Farha's SUV and, even though he had a bad feeling about doing so, Farha complied. He asked Rajchel to let him go back inside and get the keys to his business, but Rajchel wouldn't let him go.
Farha told police he saw Rajchel lean back in the seat and his right hand began to reach down to his waistband. When Rajchel started to pull out a Norinco semi-automatic pistol, Farha said, he jumped out of the vehicle and pulled out his own gun, according to the report.
Children at the nearby bus stop said they saw Farha fire a handgun, for which he had a concealed weapons permit, into the car. One of the children, confused by what happened, told police he thought Farha had a bug problem in the vehicle.
"He thought the man was shooting at bugs in his car … he thought bugs may have gotten into the man's car and that he was shooting at the bugs," the report stated.
Rajchel died in the passenger seat of the car. He was 28.
The children scattered, running into the cars of their parents who were nearby or some simply fleeing home, according to the report. Some made it to school that day, some didn't; one boy's mother told police her child had been so bothered by what he saw that he was vomiting, according to the report.
Farha had his son dial 911 and reported the shooting to dispatchers, according to the report. He was arrested in front of his home and taken to the Pittsfield Township police station before being lodged at the Washtenaw County Jail, the report stated.
Rajchel's car was still running when police arrived on scene. McCormick noted in the police report that an issue of The Watchtower was on the front seat of the Toyota Camry.
The Decision
Washtenaw County prosecutors examined all of this evidence, and more, after police submitted their investigative findings on March 15, 2010. On March 31, 2010, the prosecutor's office announced no criminal charges would be brought against Farha.
Toxicology reports showed Rajchel had a blood alcohol level of .12, above the .08 limit at which a person can be arrested for drunken driving. He also had prescription medication in his system.
Washtenaw County Chief Deputy Assistant Prosecutor Steve Hiller said at the time that there was not enough evidence to show Farha didn't act in self-defense.
Hiller said earlier this month that the burden is on the defendant to bring proof of self-defense forward. At that point, prosecutors would have to not only prove the defendant committed the crime in question but also wasn't acting in self-defense.
Hiller said there are no specific criteria that have to be met to prove self-defense. In cases such as Rajchel's death, every single angle has to be investigated to get a complete picture of the case, he said.
Hiller declined to discuss specifics about the Rajchel case, but said all homicide cases are different.
"These are grave cases. By definition, someone has lost their life," he said. "But, by definition, there are a whole group of people who have been through a traumatic event. … These are very serious cases and it's incumbent on us to be careful that every reasonable avenue of investigation is pursued as fully as we can."
Kyle Feldscher covers cops and courts for AnnArbor.com. He can be reached at kylefeldscher@annarbor.com or you can follow him on Twitter.