Posted on
Fri, Sep 6, 2013 : 3:13 p.m.
Pittsfield Township police looking for dye-stained man in fake beard who robbed bank Friday
By Kyle Feldscher
The story has been updated with more suspect description information.
A dye pack exploded on a man in a fake beard who robbed a Pittsfield Township bank as he got into a getaway vehicle Friday morning, but the man is still on the loose, police said.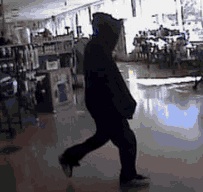 Courtesy of PTPD
Police responded at 10:26 a.m. Friday at
BestBank
, 3200 Carpenter Road, Pittsfield Township police said in a statement released Friday afternoon. Police said the man walked into the bank and passed a note to the teller.
The note stated the man was robbing the bank and wanted money. He was given cash, which included a dye pack.
The man got into his vehicle, and the dye pack exploded, leaving red dye on the suspect and throughout the interior of the vehicle. Police said the explosion of the dye pack may have burned the man's hands.
The man drove away from the scene by the time police arrived. He is still at large. No weapon was seen or implied.
"At this hour we had a lot of shoppers coming and going, any witnesses to the incident are urged to contact the investigators," said Deputy Police Chief Gordy Schick in an email.
The man is described as black, between 5 feet 4 and 5 feet 9 inches tall, thin. He was wearing a black hooded sweatshirt, white tennis shoes with black laces or black shoe lace area and blue jeans, as well as a fake black beard. The vehicle is an older white vehicle, police said.
Anyone with information on the incident is encouraged to call the Pittsfield Township Police Department at 734-822-4911 or the confidential tip line at 734-822-4958.
Kyle Feldscher covers cops and courts for AnnArbor.com. He can be reached at kylefeldscher@annarbor.com or you can follow him on Twitter.