Posted on
Fri, Dec 9, 2011 : 11:55 a.m.
Pittsfield Township police seek man who tried to steal handbag at TCF Bank
By Kyle Feldscher
Pittsfield Township police are looking for a man who attempted to take a black handbag away from a man at the TCF Bank, 3839 Carpenter Road, on Wednesday.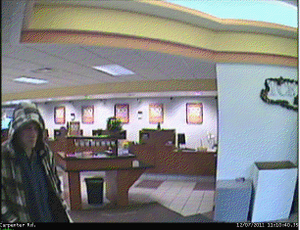 Courtesy of Pittsfield Township police
Pittsfield Township Deputy Police Chief Gordy Schick said Thursday that a man entered the TCF Bank at about 11 a.m. Wednesday and sat near the new accounts area of the branch. He was informed that someone from the bank would be with him in a moment and, after about a minute, he got up, left the bank and attacked the man carrying the handbag before he entered, Schick said.
The man and the victim scuffled for a second as the man attempted to steal the bag before apparently letting go and running toward a vehicle in the parking lot, Schick said. The man apparently shouted, "I'm sorry! I'm sorry!" to the victim as he ran back to his car, Schick said.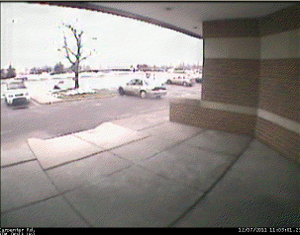 Courtesy of Pittsfield Township police
Police thought they had a partial license plate for the vehicle, but none of the results came back to match the description of the vehicle. The car was described as a older model, tan
Buick Century
with a hubcap missing on the front driver's side wheel and a sticker on the gas tank.
The suspect is described as white, about six feet tall and about 170 pounds. He is believed to be between 20 and 30 years old and he was wearing a tan, checkered zip-up hooded sweatshirt with a blue polo shirt underneath.
The incident is still under investigation. Anyone with information is encouraged to call the Pittsfield Township Department of Public Safety anonymous tip line at 734-822-4958.
Kyle Feldscher covers cops and courts for AnnArbor.com. He can be reached at kylefeldscher@annarbor.com or you can follow him on Twitter.