Posted on
Thu, Jan 12, 2012 : 7:38 p.m.
Pittsfield Township police release photos of gas station robbery suspect
By Julie Baker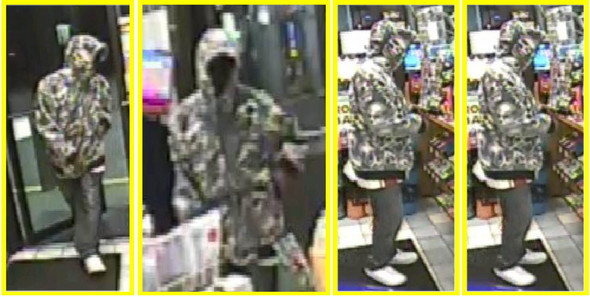 Courtesy of Pittsfield Township police
Pittsfield Township police have released photos of the suspect in Monday's early morning armed robbery of the Sunoco gas station.
About 12:04 a.m., a man walked into the station's convenience store in the 4000 block of Washtenaw Avenue, pulled out a handgun and demanded money from the cash register, police said.
The man made off with an undisclosed amount of cash. He was described as black, 6 feet tall and thin. He was wearing a black hooded sweat shirt "with skulls on it," a mask and dark jeans. Police said he was armed with a blue steel revolver.
After receiving money from the clerk, the suspect fled the area on foot. An Ann Arbor K-9 tracked the suspect which led to a nearby hotel but the suspect was not located. The clerk was not injured during this incident, police said.
Contact Pittsfield Township police at 734-822-4911 if you have information.
Contact Julie Baker at juliebaker@annarbor.com or 734-623-2576. Follow her on Twitter @juliebakera2.