Posted on
Mon, Apr 15, 2013 : 10:07 a.m.
Police: Ann Arbor man arrested for beating roommate with metal object
By John Counts
A 43-year-old Ann Arbor was arrested and charged with felonious assault over the weekend after he repeatedly struck his roommate with "a metal object," police said.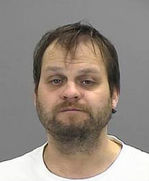 Courtesy of WCSO
Kenneth Fabean
was arraigned Sunday on an assault charged and is being held at the the Washtenaw County Jail on a $10,000 cash bond, said Ann Arbor police
Lt. Renee Bush
.
Police were called to his apartment in the 2000 block of Pauline Boulevard at 10:16 p.m. Saturday for the fight. A 28-year-old man, with whom Fabean had been living for two years, told police Fabean attacked him with the metal object for unknown reasons.
"The victim said it was unprovoked," Bush said. "He took quite a beating."
Fabean is accused of striking the 28-year-old numerous times on the head, neck, back and forearms, Bush said. Police would not specify what the metal object was.
The 28-year-old suffered multiple injuries and was taken to University of Michigan Hospital. It was unknown Monday morning if he had been released.
Police said Fabean was intoxicated when arrested. The police report did not indicate if the 28-year-old had also been drinking, Bush said.
A preliminary examination for Fabean was set for April 25.
John Counts covers cops and courts for AnnArbor.com. He can be reached at johncounts@annarbor.com or you can follow him on Twitter.