Police: Burger King stabbing may have stemmed from argument about who should be served first
Posted on Tue, Jul 17, 2012 : 11:15 a.m.
One man is still in critical condition after a knife fight outside a Pittsfield Township Burger King that may have started because one man was unhappy the other man was being served before him.
Pittsfield Township Deputy Police Chief Gordy Schick said Tuesday the incident began inside the restaurant, 6190 W. Michigan Ave., because one of the men took offense to the other being served before him.
That verbal argument escalated until the men took the dispute outside toward the wooded area north of the Burger King, where the stabbing occurred, Schick said.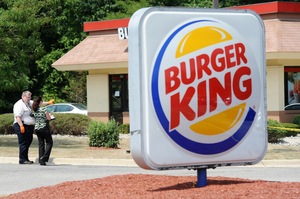 Melanie Maxwell | AnnArbor.com
"Our initial investigation indicates the argument took place inside the restaurant, possibly involving one man being served before the other," Schick said. "Words escalated inside and they went outside toward the wooded area."
The stabbing took place just after 11:30 a.m. Monday, according to police. A 32-year-old Saline man is considered the aggressor and stabbed the 46-year-old Brooklyn man several times before the Brooklyn man took the knife away from him, stabbing the Saline man several times in return, police said.
Schick said the Brooklyn man was the more seriously injured, and had undergone surgery Monday. He was still in critical condition at St. Joseph Mercy Hospital Tuesday, Schick said.
The case has been turned over to the Washtenaw County Prosecutor's Office for possible charges, Schick said. He said it may take some time to file charges because the Brooklyn man's health condition could determine what charges are eventually filed.
"It's more of a wait-and-determine ... if his condition will change ...," Schick said.
The men did not know each other prior to the incident, police said Monday.
The restaurant was closed for several hours following the stabbing to allow police to investigate, before reopening Monday afternoon. Police said there were many witnesses inside the restaurant that heard the verbal argument.