Police arrest suspect wanted in 2 sexual assaults
Posted on Thu, Sep 13, 2012 : 3:41 p.m.
Editor's note: This article has been updated with additional information from Ypsilanti police.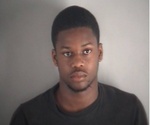 Courtesy of Ypsilanti police
Police have arrested a man wanted in two sexual assaults in Ypsilanti last week.
The United States Marshals Fugitive Task Force arrested Paul Cy Phelps III Thursday in Detroit, Ypsilanti police said in a news release.
Ypsilanti police had requested help from Detroit police and the task force in apprehending Phelps. The task force arrested him coming out of his home without incident, said Sgt. Thomas Eberts.
Phelps, 18, of Detroit, is suspected in sexual assaults of two women Sept. 6 and 7 in Ypsilanti.
Police said Phelps met a 22-year-old woman a few days before a party on Sept. 6. After the party, friends dropped off the woman at her home in the 300 block of Jarvis Street. Phelps came over a short time later and is accused of sexually assaulting the woman, police said. The incident was reported to police at 2:30 a.m. Sept. 6.
Phelps also is suspected of sexually assaulting a 19-year-old woman a day later in the 900 block of Railroad Street, police said. That incident was reported to police at 3 a.m. Sept. 7.
Eberts said Phelps met the 19-year-old woman at a party and came back to her apartment with several friends. Phelps is accused of sexually assaulting the woman in a bedroom. Several people were in a bedroom when the alleged assault occurred, Eberts said.
Both women went to local hospitals for tests following the incidents.
Phelps is being held at the Washtenaw County Jail. He is scheduled for arraignment Friday.