Posted on
Wed, Feb 20, 2013 : 12:30 p.m.
Police: Details won't be released for 2 to 3 weeks in shootout that left break-in suspect dead
By John Counts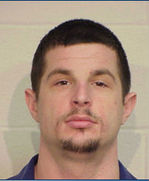 From MDOC
More details about what happened during a shootout in which police killed a break-in suspect in Green Oak Township won't be coming for two to three weeks, investigators said Wednesday.
Kevin William Hassell, 31, was shot dead by police inside his home after being chased from a nearby residence he was trying to break into around 4:30 p.m. Monday .
Details of the gunfight — such as how many times Hassell was shot and how many rounds were fired by him and the two officers — won't be known until a forensics and ballistics report is complete.
"These things take time," said Lt. Michael McCormick of the Michigan State Police, adding that such reports usually take about two or three weeks before they are submitted to the prosecutor's office. "Right now, it's just a waiting game to see how the forensics pan out."
A trooper from the state police's Brighton post and a Green Oak Township police officer chased Hassell from a home on Bishop Road to Hassell's house on Twilight Drive where the three exchanged gunfire inside the residence, police said.
"Preliminary results of the investigation indicate multiple shots were fired inside the residence by the suspect, the trooper and the Green Oak police officer during the shooting," a release issued to the media Tuesday stated.
McCormick would not elaborate on this Wednesday. Details of the breaking and entering at the Bishop Road home also were not being released since it is germane to the shooting investigation, McCormick said.
"We don't want to jeopardize any sort of review," he added.
Both officers have been placed on leave following the shooting per protocol, McCormick said. The Green Oak Township officer is an eight-year police veteran. The trooper has been with the state police for 12 years.
The shooting came less than a week after a state police trooper shot and killed Gabriel Stevenson, 18, of Ypsilanti Feb. 12 after he crashed his car into a house and lunged at police with a knife, police said.