Posted on
Thu, May 10, 2012 : 3:10 p.m.
Police detain man wanted for questioning in attacks on girls in West Willow
By Cindy Heflin
Washtenaw County sheriff's deputies have detained a man they were seeking for questioning in connection with three attacks on girls in the West Willow neighborhood of Ypsilanti Township Wednesday.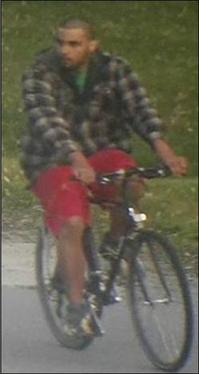 Sheriff's Office spokesman Derrick Jackson said deputies picked the man up shortly before 3 p.m. Thursday
after releasing a wanted poster, including a photo
taken by a security camera in the neighborhood, earlier in the day.
Residents have helped with supplying information in the case, he said. "I know we have gotten quite a few tips and leads from residents and students at the school," he said.
The man was being questioned at the Washtenaw County Sheriff's Office shortly after 3 p.m. Thursday, Jackson said.
Deputies are continuing to investigate and need to complete their interviews with the man, but at this point they consider him to be a prime suspect in the case, Jackson said. Police said the man groped two girls and tried to abduct a third as they were walking to the bus stop in their neighborhood Wednesday.
Deputies reported a 17-year-old girl was approached from behind by a man who had ridden past her on a bike as she was walking to her school bus stop about 7 a.m.Wednesday near Chevrolet Street and Studebaker Avenue. The man put his hand over her mouth to prevent her from screaming and used his other hand to grope her crotch, letting her go when she bit his hand and ran back to her nearby home.
While deputies were in the area investigating that report, an 11-year-old girl approached police. Jackson said that girl reported a man matching the description of the bicyclist had approached her and groped her chest area before fleeing.
While talking to the girls, investigators received another call from dispatch notifying them of the kidnapping attempt of a different 11-year-old girl by a man matching the same description.
Sheriff's office spokesman Derrick Jackson said the girl was on her way to a school bus stop at 7:30 a.m. near Nash Avenue and Dodge Court when the man approached her, grabbed her arm and said "you're coming with me."
The girl managed to yank her arm away and ran away and screamed, he said.
The man matches the description, in both appearance and actions, of a man suspected in a sexual assault reported last week near McCartney Avenue and State Street. Jackson said a man rode past a girl who was walking in the area before turning around, groping her and riding away. Police are still investigating that incident as well.
Willow Run schools administrators stationed staff members at various points in the neighborhood Wednesday afternoon to provide a safe atmosphere as students were walking home and said they planned to do the same thing Thursday.
Anyone with any information regarding about the assaults is asked to call 734-973-4884, or the Washtenaw County Sheriff's Office confidential tip line number 734-973-7711.