Posted on
Tue, Oct 16, 2012 : 5:59 a.m.
Police: DNA links Ypsilanti Township man to brutal 2009 rape
By John Counts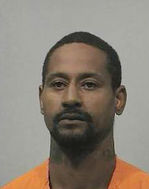 Courtesy of WCSO
In the spring of 2009, police dispatched to South Harris Street in Ypsilanti Township saw a woman covered in blood emerging from a wooded area near the railroad tracks.
The Ypsilanti Township woman, now 43, told police a stranger armed with a handgun and a knife had assaulted and raped her on a mattress in the nearby woods.
More than three years later, thanks to DNA technology and other investigative methods, police believe they've caught the culprit, said Sgt. Geoff Fox of the Washtenaw County Sheriff's Office.
Anthony Derrick Chandler, the 40-year-old Ypsilanti Township man accused in the violent attack, appeared in Washtenaw Circuit Court on charges related to the crime for the first time Monday. The pretrial hearing was adjourned because the prosecutor could not be there and rescheduled for Oct. 29 before Judge Melinda Morris in the Washtenaw County Trial Court.
Police gave a detailed account of the attack for the first time Monday.
On March 29, 2009 deputies from the sheriff's office were dispatched to the 80 block of South Harris after receiving a report that a woman was running away from a man. Officers did not initially see anything after they arrived.
"As they continued to check the area ... at the dead end by the railroad tracks, they heard a faint yell for help," Fox said. "(The deputies) then observed a female stumble out of a wooded area towards their patrol car. The female was bleeding badly from her hand."
The woman told police an unknown man had assaulted and raped her, police said. She said she was walking down South Harris near where it dead ends at the railroad tracks when a man approached her, grabbed her by the hair and dragged her into the woods despite her efforts to fight back, Fox said.
"The suspect then forced her down face-first onto an old mattress that was on the ground as she continued to struggle," Fox said.
The woman continued struggling as the man raped her, police said. He took a knife and attempted to slash her throat, but she was able to get her hand up to block it, Fox said. The knife cut her hand, damaging all the tendons.
The woman also said the man choked her several times during the incident, which caused her to start blacking out. Meanwhile, the man told her he was going to kill her, police said.
The suspect fled after seeing the patrol car lights. Deputies were unable to locate anyone that night. Fox said over the course of three years, however, police were able to link Chandler's DNA to numerous items taken from the crime scene and sent to a Michigan State Police lab for analysis, which can be a very lengthy process.
As a convicted felon, Chandler's DNA sample is on file with the state. He was sentenced to 2-5 years in prison in 1990 on two counts of vehicle theft, according to state prison records on the Offender Tracking Information System. While serving time in the Ionia Correctional Facility, he was convicted of possessing a weapon, which increased his sentence. He was released from prison in June 2005. Chandler then served another prison term from January 2010 to January 2012 for carrying a concealed weapon.
A warrant for Chandler's arrest was issued on July 10. Chandler was picked up on a minor traffic stop in Ypsilanti Township Aug. 2. He was arrested without incident and charged with first-degree CSC, assault with intent to murder, assault with intent to commit great bodily harm and assault with a dangerous weapon, according to court records.
On Oct. 2, Chandler waived a preliminary examination in district court and pleaded not guilty to all four counts. He remains held in the Washtenaw County Jail on a $150,000 cash or surety bond.
Editor's note: Three years has elapsed since the alleged incident, not four years as previously reported.
John Counts covers cops and courts for AnnArbor.com. He can be reached at johncounts@annarbor.com or you can follow him on Twitter.