Posted on
Tue, Aug 27, 2013 : 12:23 p.m.
Police investigating stabbing on MacArthur Boulevard
By John Counts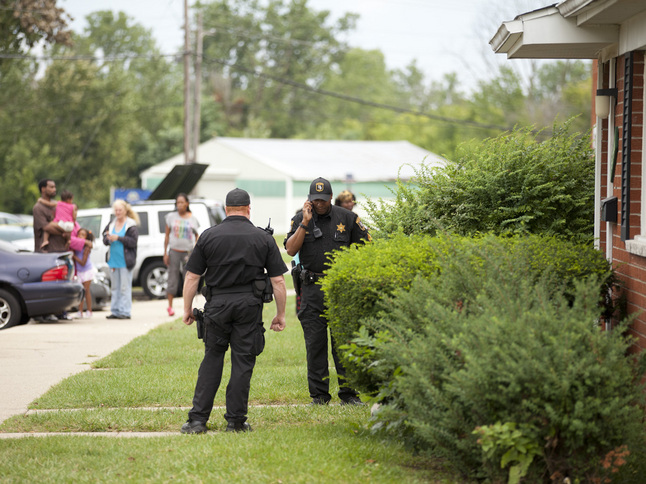 Patrick Record | AnnArbor.com
Police were called to the 8700 block of MacArthur Boulevard in Superior Township just before noon Tuesday after an 18-year-old woman was stabbed in the leg, officials said.
Washtenaw County Sheriff's Office spokesman Derrick Jackson said the person who called 911 told police it wasn't clear if the stabbing was intentional or accidental.
Investigators arriving at the scene just after noon did not find anyone in the residence. The 18-year-old woman had already been taken to the hospital to be treated for a "significant" wound to the upper leg, Jackson said.
There were initial reports a male suspect was barricaded inside the townhouse, but he was gone by the time officers arrived, Jackson added.
As of 2 p.m., it was not yet clear what exactly happened, according to officials. Investigators were still working to identify the man and bring him in for questioning. Jackson said it was a domestic incident. A bloody rag was still visible on the porch of a neighboring townhouse as police taped off the area to begin their investigation.
Neighbors said a mailman and another woman came to the assistance of the 18-year-old woman and called 911.
Eugene Scott, who lives in a nearby townhouse, said he was walking by the residence when he noticed the 18-year-old woman sitting on the porch bleeding while the mailman and a second woman helped her.
"I thought she had cut her foot," he said. "She was in a pool of blood."
John Counts covers cops and courts for AnnArbor.com. He can be reached at johncounts@annarbor.com or you can follow him on Twitter.