Posted on
Wed, Jan 2, 2013 : 11:10 a.m.
Police looking for suspect in CVS armed robbery
By John Counts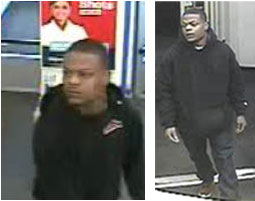 Courtesy of the WCSO
Police are looking for a man whose image was captured on CVS store security cameras and who is believed to have robbed the store in Ypsilanti Township Monday night.
Deputies from the Washtenaw County Sheriff's Office were dispatched at 6:50 p.m. to the CVS, located at 1415 E. Michigan Ave. in Ypsilanti Township, to investigate a reported armed robbery.
A cashier said a man walked into the store and approached the counter with a drink as if to pay for it, according to a release from the sheriff's office.
"The suspect then told the cashier to give him all the money and then displayed a handgun," the release said. "The suspect took the money and fled the area on foot."
The suspect is described as a black man in his mid-20s, 5 feet 9 or 10 inches tall. He was believed to weigh about 170 pounds and was wearing a blue hooded sweatshirt.
Anyone with information should call the WCSO Confidential Tip line at (734) 973-7711 or 1-800-SPEAK UP.
John Counts covers cops and courts for AnnArbor.com. He can be reached at johncounts@annarbor.com or you can follow him on Twitter.