Posted on
Wed, Nov 21, 2012 : 1:12 p.m.
Police: Man arrested after trying to take back impounded car
By John Counts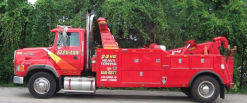 Courtesy of ypsilantitowing.com
Editor's note: This story has been updated with information from Ypsilanti police.
Police arrested a 22-year-old man accused of trying to take back his impounded car from a towing company parking lot in Ypsilanti early Tuesday morning.
Ypsilanti police Sgt. Thomas Eberts said the man had parked his car at an apartment complex on Railroad Street while visiting friends Monday night.
Fadi Salamey, manager of Budget Stadium Towing, said a man came to the lot around 11:45 p.m. Monday night to check if his Ford Taurus was impounded at the location. Eberts said the 22-year-old asked how much it would cost to get it out. The price, $287, appears to have been too steep.
"He got mad and decided to sneak into the impound yard," Eberts said.
Salamey said the man apparently scaled an 8-foot tall wooden fence at the business, located in the 800 block of Railroad Street, got into his car and drove it out of the lot.
Police said the man told them he expected the gate to automatically open. It did not, however.
"He continued ... and smashed through it," Eberts said.
Salamey described the gate as having five 4-inch pipes in it. He said some of the car's windows were smashed in the process as there was broken glass in the area of the crashed-though gate.
"(A car) came barreling through the gate," Salamey said. "It's a really heavy-duty gate."
Ypsilanti police en route to the tow yard noticed a vehicle fitting the description of the car that had just smashed through the gate turning onto West Michigan Avenue from Hamilton, Eberts said.
Police pulled the car over and arrested the 22-year-old man at Michigan and First Avenue. The man was taken to the county jail. He could face multiple malicious destruction of property charges, though he cannot be charged with stealing his own car, police said.
John Counts covers cops and courts for AnnArbor.com. He can be reached at johncounts@annarbor.com or you can follow him on Twitter.