Posted on
Mon, Oct 24, 2011 : 7:33 p.m.
Police: Man posts nude pictures of victim online after burglarizing home
By Lee Higgins
Ann Arbor police said a man burglarized a home and found nude pictures of the victim on her computer - and then posted them on photo sharing websites.
David Andres Celis, 24, of no known address, is charged with stalking, distributing an image of an unclothed person and two counts each of second-degree home invasion and using a computer to commit a crime.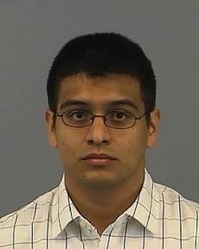 He was arraigned Thursday and released on a $100,000 personal recognizance bond with GPS monitoring.
Ann Arbor police Det. Sgt. Brian Jatczak said Celis broke into a 30-year-old woman's home in the 1000 block of Church Street in November 2009 and March 2010. No one was home during the break-ins.
During the burglary on Nov. 14, 2009 between 7 p.m. and midnight, police said Celis stole a camera, laptop computer, cash and jewelry. There were no signs of forced entry.
Police said Celis found 50 images of the woman on her computer, some of which showed her naked. Celis posted a number of the nude pictures on at least two photosharing websites, Jatczak said.
The images were posted, along with the victim's contact information, police said. Jatzcak said the woman learned the images were online after she received emails from people who saw them. She filed a complaint with police on March 8, 2010.
Celis is accused of burglarizing the home again between 8:30 p.m. March 25, 2010 and 5 p.m. the next day by climbing through a bedroom window. Police said it's unclear whether the window was locked. During that burglary, police said Celis stole another laptop computer, jewelry and CDs.
Det. Amy Ellinger executed nine search warrants on social networking websites and other websites in order to identify Celis, Jatczak said. The images have been removed from the websites, police said.
Jatczak said the victim does not know Celis and it's unclear why Celis targeted her home. Police do not believe anyone else was victimized.
Celis is scheduled to return to court for a preliminary hearing Nov. 16.
Lee Higgins covers crime and courts for AnnArbor.com. He can be reached by phone at (734) 623-2527 and email at leehiggins@annarbor.com.