Posted on
Sun, Aug 25, 2013 : 5:59 a.m.
Police manpower decreases in most Washtenaw County agencies, and crime largely follows suit
By Kyle Feldscher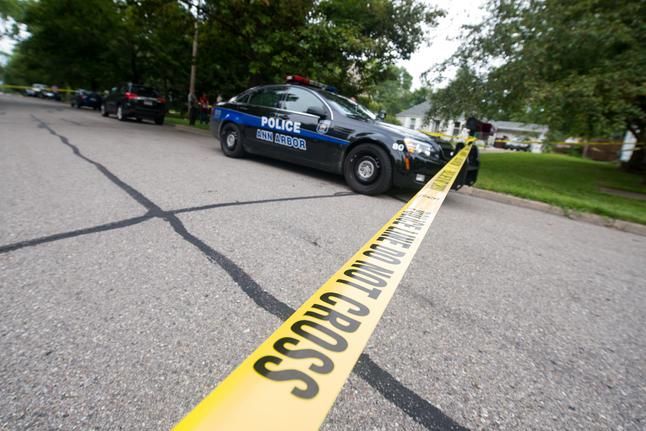 Courtney Sacco | AnnArbor.com
Violent crimes increased in the Washtenaw County Sheriff's Office jurisdiction despite the number of deputies growing by more than 7 percent from 2003 to 2011, statistics show.
The increase in crime comes with an influx of more than 10,000 new residents, according to statistics from the Federal Bureau of Investigation. Reports of violent crime went from 307 to 430 in the WCSO's jurisdiction during that time frame, according to the FBI.
Sheriff Jerry Clayton, in office since 2009, said the amount of violent crime has trended down during that time. Statistics from the FBI show 450 total violent crimes in 2009, 461 in 2010 and 430 in 2011.
Even though staffing has remained relatively constant from 2003 to 2011, the WCSO is still below ideal levels in most areas, he said. An added issue is an increase of more than 10,000 people living in the sheriff's office jurisdiction.
"I think we're holding our own," he said. "In most categories, we've trended down (since 2009)."
The sheriff's office is one of the few jurisdictions that saw a dramatic increase in violent crime from 2003 to 2011, and also one of the few that grew. A look at crime statistics from the Federal Bureau of Investigation shows that six out of the 10 Washtenaw County police agencies shrank from 2003 to 2012.
MLive Media Group took a look at crime statistics and police manpower changes from 2003 to 2011 at police agencies around the state in a series of stories published Sunday.
Violent crimes, as gathered by the FBI, are aggravated assault, forcible rape, murder and robbery. Property crimes are arson, burglary, larceny and motor vehicle theft. This is often different than individual states' definitions of crimes.
Violent crime increased in the jurisdictions of the Washtenaw County Sheriff's Office, Chelsea Police Department, Saline Police Department, University of Michigan Police Department and Pittsfield Township Police Department. For the most part, these increases were negligible, fewer than 10 reports. Property crime fell for every department from 2003-2011.
Ann Arbor, Ypsilanti, Milan and Northfield Township all saw their departments shrink by more than the statewide average of 9.52 percent. However, Milan and Northfield Township each only lost three officers during that period.
Deputies make do
Violent crime rose in every category but homicide in 2011 compared to 2003 in areas service by the Washtenaw County Sheriff's Office.
In the Washtenaw County Sheriff's Office jurisdiction, rapes went from 61 reports to 82 from 2003 to 2011. In the same time period, robberies went up from 51 to 74 and reports of aggravated assault went up from 189 to 270, according to the FBI. Homicides went down from six to five from 2003 to 2011.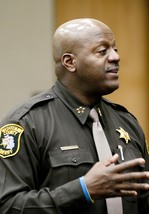 Clayton said staffing levels in the sheriff's office are above the minimum in each municipality served by deputies, but aren't ideal.
"Although we try to be proactive and do other things to engage the community in a way that changes the community to make it less receptive to crime, at a certain level of staffing you're still in reactive mode," he said.
The fact that the total number of deputies now is higher than in 2003 isn't necessarily reflective of what happened during the 2003-2011 time frame. Clayton said the number of deputies decreased and then increased again, citing the fact that Ypsilanti Township once had as many as 44 deputies, dropped down to 31 and is now at 35.
He said deputies work hard to make sure people know the sheriff's office is responsive to their calls and wants to work with them to prevent crime.
"We like to talk about how numbers are important, but the perception people have about their community is equally important," he said.
Decreases in police and crime in Ann Arbor
The sheriff's office might have kept a fairly stable department from 2003 to 2011, but other departments have had to make do with much less.
The most dramatic decreases came in Ann Arbor and Ypsilanti, where those departments lost more than 30 percent of their full-time officers. However, both violent crime and property crime decreased during that time frame in those areas.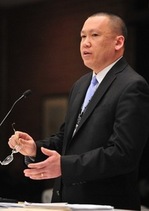 For instance, in Ann Arbor there were 299 violent crimes in 2003 but that number dropped to 266 in 2012 — a decrease from 3.2 violent crimes per 1,000 people to 2.3. This coincided with a decrease in full-time officers from 161 to 111 during that same time frame. Ann Arbor has 119 full-time officer positions in 2013.
Ann Arbor police Chief John Seto said there are a myriad reasons why crime goes up or down, but collaboration with other area police departments, using technology in effective ways and working with the community have all helped make AAPD officers more efficient in the last decade.
"Some of the initiatives we've done in collaboration with other areas and working with the community have had impact on the reduction of crime," he said. "This county has a very good working relationship between all police agencies; we're often meeting and working together to solve crimes that have a big impact on statistics."
Ann Arbor is the only Washtenaw County municipality with 2012 FBI crime statistics publicly available. The numbers used for other Washtenaw County jurisdictions are for 2011.
Smaller population, fewer bars impact decrease in Ypsilanti crime
In Ypsilanti, the number of officers shrank from 39 officers in 2003 to 26 in 2011, a 33.3 percent decrease, the largest percentage in Washtenaw County. But, crime also decreased.
The fall in crime also came with a decrease in population. There were 197 violent crimes reported in 2003 and that number fell to 162 in 2011, according to FBI stats.
However, the number of violent crimes per 1,000 people only fell from 8.6 to 8.3. That can be partly attributed to a decrease in population from 22,883 to 19,420, according to the FBI stats.
Detective Sgt. Tom Eberts said part of the reason Ypsilanti's violent crime numbers are down in the last few years is the decrease in bars in the city's downtown area.
"Back then we had more bars downtown and a lot more people out three or four nights a week," he said, "which led to an increase in assaults, larcenies and robberies as well. (Those bars closing) is part of the reason why things like assaults have come down."
Eberts said he and Chief Amy Walker spoke about the decrease in manpower and crime and attributed those drops to the falling population and relationships with the community, in addition to the decrease in bars downtown.
Ypsilanti residents are generally not afraid to call the police, and there's a good relationship between the police and many city residents, Eberts said. He mentioned neighborhood watch groups and volunteers who patrol neighborhoods as vital to the department's work.
Eberts said he doesn't believe more crimes are going unreported as staffing has decreased.
Walker has also worked on scheduling officers during the more active times for police, generally during the night shifts.
"We've got a lot of people working really hard here, and we solve a lot of crimes," he said. "And, some of it is with the help of the community, and community policing comes into play there."

Changes in crime and policing
Population changes can definitely have an impact on crime, said Matt Harshberger, Pittsfield Township public safety director.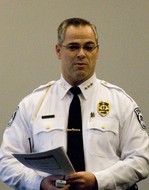 Pittsfield Township police stayed relatively stable since 2003, actually hiring more officers between 2003 and 2011, going from 26 to 38 officers. Harshberger said that number is 40 in 2013 and attributed the constant level of police staffing to a public safety-specific reserve fund that the department has used.
However, despite this stability, violent crime rose from 2003 to 2011 — from 64 reports in 2003 to 84 reports in 2011, according to the FBI. During this time frame, Pittsfield Township grew from 31,970 residents to 34,637 residents, which meant violent crimes per 1,000 people only rose from 2.0 to 2.4 during that time.
"Yes, it would," Harshberger said when asked if increasing population could be an explaining factor for this increase. He added, "There's always an ebb and flow with crime statistics, up and down."
Harshberger added that he usually discusses crime trends as reported through Michigan Incident Crime Reporting. To view a PDF of the township's trends for the last five years through this system, click here.
Both Harshberger and Seto said some of the major changes in policing during the past 10 years center around technology and the theory of community-based policing.
Seto said Ann Arbor officers have been more efficient in recent years because squad cars come equipped with Mobile Data Terminals. These computers allow officers to file reports, do their daily activity logs and write tickets from their cars during their shifts as opposed to working on hours of paperwork.
"That's one of the changes that has helped us to be more efficient," he said.
Working together and striking a balance
Ann Arbor and other area departments are also on the Court and Law Enforcement Information System (CLEMIS), which allows many departments to have common systems for police reports and share information much easier. Officials said this allows departments to identify hot spots for crime in their jurisdictions and target their resources there, while also working with other departments on investigations.
There are also countywide police collaborations, such as the SWAT team, crisis negotiation team and mobile field force team.
This collaboration frees up more officers for other duties within their own jurisdictions, Seto said. Partnering with the community, doing the same boots-on-the-ground discussion with residents that has always been expected of investigators, has had a major impact as well, Harshberger said. In Pittsfield Township, officers have been working more and more with community organizations to specifically target their concerns since his arrival in 2009, he said.
"There has been a significant increase in dialogue about problems in the community that we have been more responsive toward," Harshberger said.
Clayton said the sheriff's office has been working on engagement as much as enforcement in recent years, which has greatly helped investigators.
Among those strategies is partnering with landlords, Clayton said. He said working with the landlords helps keeps potentially problematic tenants out of properties and keep communities safe.
"We have to be smart about how we deploy our resources, but we also have to be smart about who we partner with," he said.
Engaging neighborhood watch groups, finding out what residents expect from deputies in regards to the WCSO's visibility in the community and working with other departments are other ways the sheriff's office works to partner with the community, Clayton said. He added that many home invasion arrests made by deputies have come from concerned neighbors calling in suspicious activity.
Seto said a balance between community interaction and data gathered by better technology can really help departments.
"The use of technology has to be balanced with the community-policing approach," he said. "You can't have one without the other. You can have all the technology in the world, but if you can't work efficiently with the community or you don't have that community trust, it's going to be less impactful."
Kyle Feldscher covers cops and courts for AnnArbor.com. He can be reached at kylefeldscher@annarbor.com or you can follow him on Twitter.