Posted on
Wed, Apr 17, 2013 : 2:50 p.m.
Police: Men pistol-whipped mechanic, then drove off with his puppy
By John Counts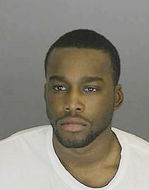 Courtesy of WCSO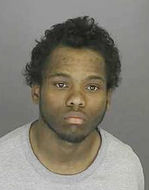 Courtesy of WCSO
Two
Ypsilanti Township
men accused of pistol-whipping a man and driving off with his pit bull puppy had a court hearing rescheduled Tuesday, records indicate.
Derrell Evans, 21, and Marchal Seuell, 20, are charged with armed robbery for an incident that occurred earlier this month involving a 46-year-old Ypsilanti Township man Seuell hired to fix his car, police said.
Around 10:20 p.m. on April 4, the 46-year-old met the two men at a parking lot in the 100 block of South Grove Street in Ypsilanti to fix Seuell's 2003 Buick, police said. None of the men lived nearby, but the 46-year-old did not want to go to the high-crime area of MacArthur Boulevard, where the two men lived, for fear of his safety, said Ypsilanti police Sgt. Thomas Eberts.
Police said Seuell did not have enough money to pay for the brake job, so Evans first pointed a gun at the 46-year-old, then pistol-whipped him as the car was being brought down off the jacks.
Seuell and Evans hopped inside the car, where the 46-year-old had put his pit bull puppy while working on the car, according to police.
"He wanted the dog back, but they wouldn't let him get it out of the car," Eberts said.
The suspects fled with the puppy in tow. Seuell and Evans were arrested a short time later in the 9800 block of MacArthur Boulevard by sheriff's deputies who pulled the Buick over after receiving a vehicle description, Eberts said.
Deputies took the small pit bull puppy and a handgun from vehicle, and the two men were arrested. Owner and puppy were reunited.
Preliminary examinations for the two suspects were moved Tuesday to May 7 in the 14-A1 District Court, records indicate.
Evans is also charged with assault with a dangerous weapon, possession of a firearm and felony firearm, second offense. Seuell also faces a count of carrying a concealed weapon. They were arraigned on all charged April 5. Both are free on 10 percent of $2,000 bonds.
John Counts covers cops and courts for AnnArbor.com. He can be reached at johncounts@annarbor.com or you can follow him on Twitter.