Posted on
Thu, Jul 19, 2012 : 3:52 p.m.
Police put neighborhood watch groups on alert after break-ins at homes waiting to be sold
By Kyle Feldscher
Neighborhood watch groups in Ann Arbor have been put on alert after intruders broke into four homes, all of which were in the process of being sold.
An email alert sent out by Police Service Specialist Deborah Cauffiel Thursday morning indicated the targeted homes had lock boxes on the front doors and "For Sale" signs in the front yards. All of the homes were broken into through rear entrances and Cauffiel urged residents to keep an eye on any homes for sale in their area.
"The Ann Arbor Police Department is urging residents to be mindful of any unoccupied homes for sale on their block," Cauffiel wrote, "and to report suspicious people to our department without delay."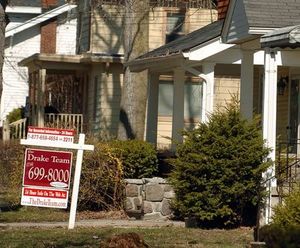 The affected homes were in the 1700 block of Ives Lane, 2200 block of Vinewood Boulevard, the 3400 block of Ashburnam Court and the 2800 block of Eisenhower Parkway, according to Cauffiel's email.
Messages for Ann Arbor police spokeswoman Lt. Renee Bush seeking more information on the incidents were not returned Thursday. It's unclear if items were taken from the homes.
It's rare for vacated homes in the selling process to be targeted by intruders, said Nancy Medzinski, executive officer of the Ann Arbor Area Board of Realtors.
"This is the first time we've ever gotten a notification from the police department," she said. "We're sharing it with members to increase awareness and share with their clients."
Wayne Esch, a realtor with Real Estate One, said he and his wife Debra sell between 50 and 70 houses per year and have never had one broken into, save for bank-owned houses. Esch estimated two bank-owned properties had been entered within the last five years and he speculated the previous owners of the homes had come in to take some of their former possessions.
Occasionally, Esch will have clients who are concerned enough about leaving their home vacant while it's up for sale that they don't want to put a sign in the front yard or will ask to put the lock box in the back. Esch said the break-ins at for-sale homes in Ann Arbor are so rare clients often change their mind when he explains the benefits and costs of such a decision.
"We talk through it and they agree it's in their best interest to put the sign in the front yard and put the lock box in front of the house," he said.
"I've never had one (a break-in)," he added.
The Board of Realtors doesn't have any specific recommendations for member companies on what to tell clients who are in the process of moving, Merdzinski said. However, there are some ways people who are looking to sell their former residence can protect themselves. She said a car in the driveway, lights on inside the home and motion-activated lights can all be simple deterrents.
"It makes sense to secure a home whether you're on vacation or between sales," she said.
Merdzinski also encouraged neighborhood watch groups to stay on high alert.
Kyle Feldscher covers cops and courts for AnnArbor.com. He can be reached at kylefeldscher@annarbor.com or you can follow him on Twitter.