Posted on
Wed, Mar 27, 2013 : 9 p.m.
Police release photo of bullet hole left in car by unknown shooter
By Kyle Feldscher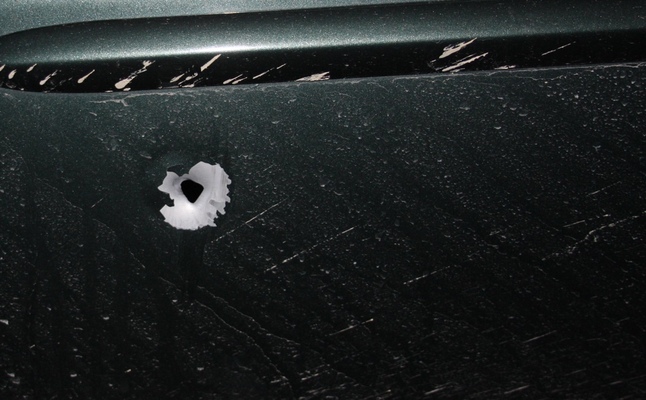 Courtesy of Pittsfield Township police
Pittsfield Township police released a photo of the bullet hole left in a township woman's car Monday as detectives team with Michigan State Police troopers and others to investigate the shooting.
Pittsfield Township Public Safety Department Director Matt Harshberger released the photo to media outlets Wednesday. The photo shows a single shot in the driver's side door of the vehicle driven by the 72-year-old Pittsfield Township woman Monday.
Three Monday evening shootings are believed to be related, investigators said Wednesday. Officials from the Pittsfield Township police, Michigan State Police, Washtenaw County Sheriff's Office and Federal Bureau of Investigations met Wednesday morning to begin planning a joint investigation into the incidents.
"We're trying to plan out the resources we might need as part of the investigation," Harshberger told AnnArbor.com.
Harshberger told the Detroit Free Press the Pittsfield Township woman heard a loud bang about 6:15 p.m. Monday on Michigan Avenue near Industrial Drive. The woman returned home before discovering the bullet hole in her door. She came to police immediately after that, Harshberger told the newspaper.
The Free Press also reported bullet fragments were pulled from a vehicle involved in one of the two shootings on Austin Road in Bridgewater Township.
The first shooting was reported on Austin Road east of Ernst Road. A 2005 Chevrolet Silverado pickup truck driven west by a Manchester man was shot. The second shooting was reported a short time later on Austin Road west of Schneider Road. An Adrian woman was driving the 1999 Pontiac Grand Prix west on Austin Road when it was hit by a bullet.
The two shootings in Bridgewater Township occurred between 5:40 p.m. and 6 p.m., police said in a statement.
The distance between the intersection of Austin and Schneider and Michigan Avenue and Industrial is a little more than nine miles. According to Google Maps, the estimated drive time between the two intersections is 14 minutes.
No one was injured in the shootings and police have not released any suspect information in the case.
It's unclear at this point if the incidents are related to the arrest of a man Tuesday on U.S. 23. He is accused of pointing a handgun at vehicles. However, police told the Free Press the man will be reinterviewed.
The shootings come several months after Raulie Casteel was arrested after being accused of shooting at 24 vehicles along the Interstate 96 corridor in October, injuring one person. Casteel is facing a multitude of criminal charges, including terrorism counts. His case is headed toward trial.
Elmore Ray was arrested last month after he was accused of firing a sawed-off shotgun at vehicles on U.S. 23. He's in the Washtenaw County Jail and is awaiting a competency hearing.
Anyone with information on the case is encouraged to call Crime Stoppers at 1-800-SPEAK UP (773-2587).
Kyle Feldscher covers cops and courts for AnnArbor.com. He can be reached at kylefeldscher@annarbor.com or you can follow him on Twitter.