Posted on
Mon, Feb 4, 2013 : 11:23 a.m.
Police: Robbery suspect refuses to turn himself in, search continues
By Kyle Feldscher
The 23-year-old Ann Arbor man who police believe robbed an Ann Arbor Check 'N Go is on the lam after informing detectives he will not turn himself in.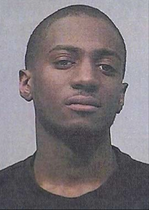 Courtesy of AAPD
James Romell Robinson is the prime suspect in the Jan. 11 robbery at the Check 'N Go, 1912 W. Stadium Blvd. On Friday, Ann Arbor police Detective William Stanford said a four-count warrant was approved for Robinson.
According to a police statement Monday morning, Robinson spoke with Stanford on the phone and told him he will not turn himself in. Family members denied knowing Robinson's whereabouts, according to police.
Robinson walked into the Check 'N Go on Jan. 11 and passed a note to a teller implying he had a weapon, according to police. He allegedly took cash and forced all the other tellers in the shop to lay on the ground before fleeing the area on foot.
Stanford said he's considered armed and dangerous. The Ann Arbor resident has been seen recently in the Pine Lake apartment complex on Adrienne Drive and is known to drive a white Crown Victoria or Mercury Marquis.
He's wanted on two counts each of armed robbery and unarmed robbery.
Anyone with information on Robinson's whereabouts is encouraged to call Stanford at 734-323-2628 or Crime Stoppers at 1-800-SPEAK UP (773-2587).
Kyle Feldscher covers cops and courts for AnnArbor.com. He can be reached at kylefeldscher@annarbor.com or you can follow him on Twitter.