Posted on
Wed, Mar 27, 2013 : 10:07 a.m.
Police: Shattered window in vehicle on I-94 not related to roadway shootings
By Kyle Feldscher
A driver on eastbound I-94 got a shock Tuesday evening when the rear driver's side window in the vehicle shattered, launching an investigation to see if the incident was related to three vehicle shootings reported Monday.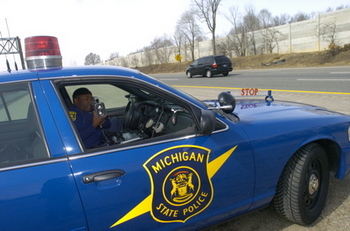 File photo
However, Michigan State Police said Wednesday the incident does not appear to be connected to the recent shootings and there is no criminal investigation.
Sgt. Mike Garland, of the Michigan State Police, said a vehicle was eastbound on I-94 near Zeeb Road about 7 p.m. Tuesday when the window shattered. Troopers investigated the incident but determined the window was not shot out.
"We are not investigating it as a part of those shootings," Garland said, "and the vehicle is already released."
Garland said he wasn't aware of what actually broke the window on the vehicle
Three vehicles were reported shot within 15 minutes of each other Monday in Washtenaw County — two in Bridgewater Township and one in Pittsfield Township. No one was injured and police were working to determine if the three incidents were related.
The first two incidents occurred about 6 p.m. Monday on Austin Road in Bridgewater Township. Police said a westbound Chevrolet Silverado driven by a Manchester man was shot east of Ernst Road. Later, a westbound 1999 Pontiac Grand Prix driven by an Adrian woman was shot on Austin Road west of Schneider Road.
About 15 minutes later, a bullet struck the driver's side door of a westbound vehicle on Michigan Avenue east of Industrial Drive in Pittsfield Township. The 72-year-old driver from Pittsfield Township was not injured n the incident.
Southeast Michigan has seen two people arrested in the last six months for shooting at vehicles on area roads.
Raulie Casteel is facing terrorism charges for allegedly shooting at more than 20 vehicles in the Interstate 96 corridor before his arrest in November. His case is headed toward trial.
Elmore Ray is held in the Washtenaw County Jail on charges alleging he shot at cars on U.S. 23 with a sawed off shotgun in February. Ray was arrested on Feb. 27 and will retun to court on April 30.
Kyle Feldscher covers cops and courts for AnnArbor.com. He can be reached at kylefeldscher@annarbor.com or you can follow him on Twitter.