Posted on
Fri, Jun 14, 2013 : 5:59 a.m.
Police seeking felony charges for U-M graduate student accused in sexual assaults
By John Counts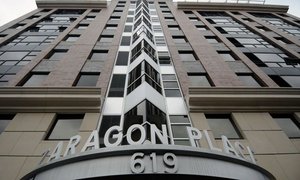 From Facebook
A 31-year-old University of Michigan graduate student could soon be facing felony criminal sexual conduct charges for incidents involving three women at his Zaragon Place apartment, police said Thursday.
"The investigation is complete and (the case) has been submitted to the prosecutor's office," said Lt. Robert Pfannes of the Ann Arbor Police Department.
The case was sent to the Washtenaw County Prosecutor's Office for authorization within the last week, Pfannes added.
One incident is reported to have happened on Feb. 15, with the two others dating back to September 2012. The assaults were said to have occurred at the man's residence in the Zaragon Place Apartments, located 619 E. University Ave. They were not reported to police until Feb. 27, when the University of Michigan police issued a crime alert.
The three students told police they drank alcohol in the apartment and were subsequently assaulted, according to police. In two cases, the victims reported passing out then waking up during the assault.
The two earlier incidents didn't come to light until the third woman reported an assault to university officials in February. The first woman told a university official about it, but did not initially want to file a police report, AnnArbor.com previously reported.
The second woman did not report an assault to either university officials or police, though investigators were made aware of an incident involving her and the 31-year-old, according to police.
The man was a U-M graduate student at the time. His current status is unknown. The three women are also U-M students and are over the age of 18. Police would not release any other information about the suspect or victims.
John Counts covers cops and courts for AnnArbor.com. He can be reached at johncounts@annarbor.com or you can follow him on Twitter.