Posted on
Mon, Oct 8, 2012 : 7:48 a.m.
Police seize 36 marijuana plants and growing equipment from apartment
By Cindy Heflin
Pittsfield Township police Sunday arrested a 28-year-old man accused of growing marijuana and possessing more than allowed under the state's medical marijuana law.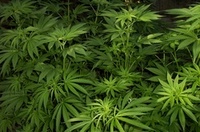 Responding to a complaint about marijuana, police went to a residence in the 4100 block of Chester Drive about 6:30 p.m. Sunday.
There they found 36 marijuana plants, growing equipment and more usable marijuana, police said in a press release. The man, who had a medical marijuana card and a permit to carry a concealed weapon, also had two pistols, police said.
Police seized the marijuana and growing equipment and arrested the man.
Police did not disclose how much marijuana, besides the 36 plants, was seized. Michigan law allows a qualified user to possess 2.5 ounces and 12 plants if the patient has not appointed a primary caregiver to cultivate the plants.
Pittsfield Township Police continue to investigate. Anyone with information about this case is asked to call Pittsfield police at 734-822- 4911.