Posted on
Tue, Jan 29, 2013 : 5:06 p.m.
Police: U-M students report drinks may have been spiked with drugs
By AnnArbor.com Staff
University of Michigan police sent out an alert to the campus community Tuesday warning of unconfirmed reports in recent months that students' drinks have been spiked with drugs.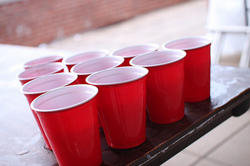 MLive file photo
One student reported to Ann Arbor police that she may have been drugged at an off-campus party Friday night, according to the alert. She said she drank several drinks at the party in the 600 block of South State Street, then vomited and blacked out. She said she was not assaulted.
Anyone with information is asked to call University of Michigan Police at (734) 763-1131 or the Ann Arbor Police Tip Line (734) 794-6939 or email tips@a2gov.org.
Police also issued the following tips:
Do not take drinks from unknown sources.
Report any possible drugging incidents to police as soon as possible to preserve evidence. Timely reporting is essential.
Trust your intuition — if a particular situation makes you feel uncomfortable or unsafe, choose an alternative
Suspicious incidents can be reported to the Confidential Tip Line 1-800-863-1355.
Police said it's not their goal to prosecute a person for underage drinking who reports a potential drugging incident.