Posted on
Tue, Dec 4, 2012 : 5:59 a.m.
Police: Woman hit by car while saving parking spot wasn't breaking law
By Kyle Feldscher
It's a question you'd think Seinfeld would have tackled in an episode: How do you respond when you pull into a parking spot and someone is standing in it, saving it for someone else?
One driver in Ann Arbor decided the appropriate response was hitting a 31-year-old woman with a Saturn.
However, Ann Arbor police said the annoyance caused by finding a prime spot taken by a pedestrian is no reason to use a vehicle as a weapon.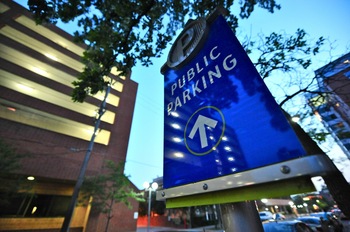 Ann Arbor police Detective Lt. Robert Pfannes said there were no law or local ordinance prohibit someone from standing in a parking spot and saving it for a friend.
"It may be a breach of etiquette, but no law that it violated immediately comes to mind," he said.
Questions about the behavior 31-year-old Ann Arbor woman who was hit while standing in the metered city parking lot at North Fourth Avenue and Catherine Street on Friday night were raised Monday after AnnArbor.com reported on the incident.
According to police, the woman was with friends and they were driving around looking for a parking spot. When one was spotted in the lot, the woman jumped out and stood in the spot to save it while her friend turned around to come back to the lot.
The driver of the gray Saturn pulled into the spot and was informed the woman was reserving it for someone else. In response, the driver pulled the Saturn forward, hitting the woman in the knees and causing her to fall onto the hood of the car.
The 31-year-old woman reported the incident at the police station, and Pfannes said Monday the detective bureau is actively investigating the case.
In a place like Ann Arbor, parking spots can be prized discoveries. However, area law enforcement said it's rare to have a dispute over a parking spot escalate to the point of violence.
Diane Brown, spokeswoman for the University of Michigan police, said there aren't a lot of people standing in university parking spots in order to save them for friends. Usually, people parking in university parking lots are driving alone, according to Brown.
However, that doesn't mean there aren't disputes.
"On occasion, there might be a fender bender-type incident because someone pulled in before the other pulled out," she said. "Oral arguments reportedly have involved a possible punch or shoving, but, typically, when police arrive both parties deny that part."
There are few times when those disputes get bad enough that prosecutors eventually decide to charge the parties involved, Brown said.
Instead of going into the justice system, some aggrieved drivers will go the vigilante route. Brown said many reports of vandalism on cars in university parking lots can be traced to a disagreement over the parking spot.
"We have periodically had reports from a driver who has returned to their vehicle and reported their vehicle has been keyed or scratched," Brown said. "When asked who might have done this, they might explain that in the process of parking they got in a disagreement."
Kyle Feldscher covers cops and courts for AnnArbor.com. He can be reached at kylefeldscher@annarbor.com or you can follow him on Twitter.