Posted on
Fri, Aug 9, 2013 : 5:57 a.m.
Ann Arbor armed robbery suspect: 'I was going through withdrawals, I was desperate'
By John Counts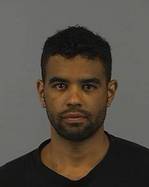 Courtesy of WCSO
The 30-year-old man accused of robbing four Ann Arbor businesses confessed them all in a recorded police interview played for a judge at a hearing Thursday.
Judge Richard Conlin ultimately bound three of the cases over to circuit court.
Assistant Washtenaw County Prosecutor John Vella used the confession as his final piece of evidence which was admitted despite an argument from Ahmed Abdullah-Albasir's defense attorney that the statement was coerced and violated his client's constitutional rights.
Conlin allowed the recording for preliminary examination purposes only. The recording followed testimony from employees at the Subway, GameStop and Biggby Coffee Abdullah-Albasir is accused of robbing with either a knife or a gun.
Ann Arbor police detectives also testified.
The taped confession and testimony was enough for Conlin to find probable cause the three crimes were committed and Abdullah-Albasir was the one responsible.
An examination for a fourth case involving a second Subway restaurant was adjourned until Aug. 22 because a witness could not make it to the Thursday hearing to testify.
In the taped confession, Abdullah-Albasir told police he immediately went and bought heroin after each robbery.
"I was going through withdrawals," he told a detective during the interview. "I got desperate."
Leaving the knife behind
The first in Abdullah-Albasir's alleged armed robbery spree occurred April 30 at the GameStop at 3225 Washtenaw Ave.
Ryan Todd was working when the robbery suspect walked in, he testified.
"He quickly walked into the store, told (a co-worker) to get on the ground and told me to open up the register," Todd said, adding that the suspect had a kitchen knife with a 3- to 4-inch blade on it and was wearing a ski mask.
"I was being threatened with a knife," he testified, so he opened up the register where the suspect grabbed $234.
At this time, Todd said he noticed some markings he thought were either a tattoo or a birthmark on the suspect's neck. In later testimony, Vella tried to link that recollection with a picture an Ann Arbor police detective took of Abdullah-Albasir's neck showing marks and Abdullah-Albasir telling police in the taped interview he compulsively scratches and picks scabs in that area.
Todd testified that after the suspect took the money, he left the kitchen knife on a display table near the front of the store and left.
Because the suspect was wearing a ski mask, Todd could not positively identify Abdullah-Albasir, nor could any of the other witnesses since the suspect's face in all the robberies was covered.
Cash register or espresso machine?
Later that week, on May 2, the Biggby Coffee shop at 2550 W. Stadium Blvd. was robbed at knifepoint around 3:51 p.m.
Ian O'Harris, a manager and barista at the coffee shop, said there were about 30-40 people inside at the time. O'Harris testified the suspect came in and walked straight to an area behind the counter.
"He said he did not want to hurt anyone and he pulled (a knife) out," O'Harris said, adding the suspect pointed the knife near his ribs.
The suspect grabbed all the money from the first register and then a second register. O'Harris said the suspect pointed at a third machine on the counter.
"He asked him if there was more money," O'Harris said. "I told him it was an espresso machine."
The suspect then fled out the door.
"I faintly heard him say 'Sorry,' when he left," said Alyssa Culler, who was also working as a barista that day.
'I thought he was going to shoot us'
On July 12, Loretta Milliner was working at the Subway at 2140 W. Stadium Blvd. around 6 p.m. when a man walked into the restaurant with a bandana on his face like a "cowboy bandit," she testified.
Milliner said she was loading the bread carts when the man came to the counter and told her he didn't want to hurt anyone and that she should open the cash register.
"He goes in his pocket and I see the silver tip of a gun," she said. "I thought he was going to shoot us."
In the taped confession, Abdullah-Albasir said he did not use a gun in any of the robberies.
Milliner testified that she opened the drawer and the suspect grabbed money and ran out the door.
Police interview
Ann Arbor police said a description of the vehicle used in the robberies was developed. A vehicle was subsequently linked to Abdullah-Albasir and police executed a search warrant at his home in the 700 block of N. Maple Road July 18.
The taped confession was made that same day. Abdullah-Albasir's attorney, Ali Hammoud, argued Thursday that there is a point on the tape where his client clearly states he wanted a lawyer. Hammoud asked that the tape not even be played for the judge, who disagreed.
Hammoud continued to argue that the confession violated Abdullah-Albasir's constitutional right against self-incrimination.
The recording of Ann Arbor police Detective William Stanford interviewing Abdullah-Albasir was eventually played in its entirety for the judge and courtroom.
In it, Abdullah-Albasir answers numerous questions about what vehicle he used, where he parked and what he wore at the four robberies.
At one moment, he recounts the first GameStop robbery.
"I didn't plan on going through with it until I was at the front of the store," he said.
Abdullah-Albasir admitted he went and bought heroin after each robbery and said he didn't have money for rehab.
Abdullah-Albasir is charged with one count of armed robbery in each case. A count of carrying a concealed weapon was added to one case and a count of carrying a weapon with unlawful intent was added to another case at Thursday's hearing.
The case will next be heard in Judge Archie Brown at the Washtenaw County Trial Court. A pretrial hearing was set for Sept. 18. Abdullah-Albasir remains in custody at the jail on a $1.2 million bond.
John Counts covers cops and courts for AnnArbor.com. He can be reached at johncounts@annarbor.com or you can follow him on Twitter.