Posted on
Tue, Nov 13, 2012 : 4:25 p.m.
Parishioners 'saddened' by theft of donations from church
By Amy Biolchini
After a still-undetermined amount of cash donations were reported stolen early Monday morning from the office of St. Vladimir Orthodox Church in Lima Township, parishioners have reacted with more empathy than anger for the perpetrators, said Father Gregory Joyce.
"People are saddened more than they are upset," Joyce said.
Washtenaw County Sheriff's deputies responded to the church at 9900 Jackson Road about 2 a.m. Monday after the church's security alarm went off. Joyce said police arrived about three minutes after the alarm sounded.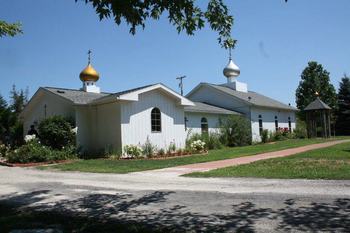 Courtesy photo
A window to Joyce's office was broken, which was how police believed the suspect or suspects entered the building.
Inside Joyce's office was a hand-carved, locked wooden box about the size of a shoe box that was used to collect donations for special events the church hosts, like funerals and weddings. He kept the box in plain sight on his desk.
Police found the box broken open on the floor of Joyce's office, with one check left behind.
Joyce said he did not know the value of the donations that were in the box, but he didn't believe it to be a significant amount.
"They were probably expecting the Sunday collection," Joyce said.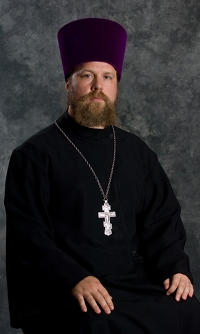 Courtesy photo
The Russian Orthodox church located west of Ann Arbor has about 115 adult members and collects donations every Sunday, but the money is immediately deposited in the bank, Joyce said.
Though Joyce said he was aware of a recent rash of church burglaries in the area, he said St. Vladimir Orthodox Church had taken precautions for years to make sure there weren't large amounts of money left at the church overnight.
"We don't think this burglary could have been prevented," Joyce said. "We've tried to be very diligent in being good stewards of what we've been given; that includes with being careful with the funds that people entrust to us."
Additionally, the church continues to upgrade its security alarm system that has been in place since Joyce has been pastor for the past 15 years. The church was founded in 1981, and has been housed at its current location since 1987.
This is the first burglary in the church's 31-year history, Joyce said.
"We asked our parishioners to pray for the persons that did this," Joyce said. "To be in a situation where you need to steal from the church, you must be in a very desperate situation."
Amy Biolchini covers Washtenaw County, health and environmental issues for AnnArbor.com. Reach her at (734) 623-2552, amybiolchini@annarbor.com or on Twitter.