Posted on
Wed, May 15, 2013 : 1:18 p.m.
Ann Arbor SAES graffiti suspect will face more charges, remains in custody
By John Counts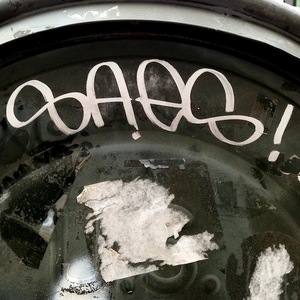 Melanie Maxwell | AnnArbor.com
The 15-year-old Ann Arbor boy accused of spray painting his moniker SAES all over the city will face more vandalism charges, police said.
A court hearing Wednesday in the Washtenaw County juvenile court was adjourned three weeks due to more charges being filed against the teen.
"There is another petition winding its way through court," the boy's attorney Lynn D'Orio told Referee Julia Owdziej when requesting the adjournment.
Owdziej set the next hearing for June 5 and ordered the boy to remain in the Washtenaw County Youth Home.
Ann Arbor police Det. Robin Larson could not confirm how many other counts the juvenile will face, but did say she is working on putting together another petition to submit to the prosecutor's office.
The charges will be similar in nature to the 16 destruction of property counts the boy already faces, according to court proceedings.
Nine of those counts are felonies punishable by five years of imprisonment, and/or $10,000 or three times the amount of destruction or injury, whichever is greater. The remaining counts are misdemeanors, four punishable by one year in jail and/or $2,000 or three times the amount of damage and three punishable by 93 days in jail and/or $500 or three times the amount of damage, whichever is greater.
The boy appeared in court wearing a juvenile detention jumpsuit with shackles on his wrists and ankles. He addressed the referee about why he should be released from the youth home while awaiting the next hearing.
"I would like to go back to school," he said. "I just want to give it my all. I don't want to give up."
The boy attended Community High School up until being taken into custody.
The boy said he was remorseful for what he had done and that his stay at the detention center had taught him a lesson. He also said he would be willing to work with all the businesses to clean up all the graffiti he is accused of spray painting.
"I really want to turn it around from now on," he said.
The prosecution was unmoved.
"I don't think (he) takes any of this seriously," argued Assistant Washtenaw County Prosecutor Jonathan Emmons against the boy being freed.
Despite hearing pleas from the boy's mother, father and grandmother, Owdziej ordered the boy to remain at the youth home until at least May 28, when she scheduled another placement review.
The boy was taken into custody three days after breaking a court ordered tether ruling in April.
The prosecutor's office also requested and was granted an order to have the boy evaluated by the drug court because there was a concern of "high-level drug use," according to probation officials.
On Monday, a 16-year-old Ann Arbor Pioneer High School student told the court he was behind the "Mole" tags. He pleaded guilty in 11 counts of property destruction. Police say the two boys were friends and are responsible for numerous graffiti on dozens of buildings, overpasses, light poles and other locations around Ann Arbor.
Just how much restitution the boys will have to pay together should be determined by the time the 16-year-old is sentenced June 18.
John Counts covers cops and courts for AnnArbor.com. He can be reached at johncounts@annarbor.com or you can follow him on Twitter.