Posted on
Thu, Sep 27, 2012 : 2:45 p.m.
Saline man charged with filing false police report accused of stalking girlfriend before assault
By Kyle Feldscher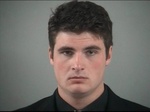 East Lansing Police Department
The Saline man
who said Michigan State University hockey players
beat him is accused of stalking his ex-girlfriend and being physically aggressive following their break up,
according to an MLive Lansing report.
Brandon Carmack, 20, is charged with two counts of assault and battery, domestic assault and battery, filing a false police report of a felony and stalking. He originally alleged he was beaten, stabbed in the head and arm and left with a broken nose and broken ribs following an assault late on Aug. 27 and early on Aug. 28.
However, a personal protection order obtained by MLive Lansing paints a very different picture of the night in question. In the document, Carmack's former girlfriend alleges he emailed and called her repeatedly in an attempt to get her back before threatening her.
In the restraining order, the woman alleges that on the night of the incident, Carmack called her while she was at a party and said he was at her house and tried to get her to come back to see him. She responded by telling him she would call the police if he didn't leave, according to the report.
The woman also alleges one of her roommates called her and said she had sent Carmack to an incorrect location when he demanded to know where his ex-girlfriend was. Although Carmack headed toward the wrong address, he managed to come across the woman while she was waiting to be picked up from the party, according to the report.
The woman accuses Carmack of grabbing her by the neck in a choke hold, punching her in the chest with a closed fist and hitting her in the face with his shoulder. When others intervened, the woman ran inside, but Carmack gave chase, hitting her when he opened the door and pulled her toward him in an attempt to make her leave with him, she said.
A police report includes statements from witnesses who told police Carmack is known to do cocaine and appeared to have small pupils and was sweating profusely during the incident, The State News reported
Carmack is scheduled to return to court on Oct. 23 for a pretrial conference and has a preliminary exam scheduled for Oct. 26, according to MLive Lansing.
Kyle Feldscher covers cops and courts for AnnArbor.com. He can be reached at kylefeldscher@annarbor.com or you can follow him on Twitter.