Saline man pleads guilty to fighting police officers during Christmas Day arrest
Posted on Tue, May 8, 2012 : 6:45 p.m.
The man who fought Saline police during a Christmas Day arrest for drunken driving pleaded guilty to three criminal charges last week, according to court records.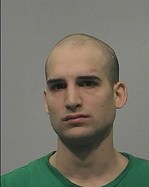 Courtesy of the Saline Police Department
John Craigmile pleaded guilty to assaulting, resisting or obstructing a police officer, operating while intoxicated and possession of marijuana on April 30, records show. Charges of assault with a dangerous weapon and a second assaulting, resisting or obstructing a police officer charge will be dismissed at his sentencing hearing, scheduled for 1:30 p.m. June 12 in front of Washtenaw County Trial Court Judge Donald Shelton.
Craigmile was arrested in the early hours of Dec. 25 in the 200 block of McKay Street after Officer Ashley Kofahl pulled him over because she suspected he was drunk. Craigmile got out of the vehicle against Kofahl's orders and began to struggle with her and Officer Dennis Gruschow, who arrived on scene as back up.
Craigmile hit the two officers with punches and used Gruschow's flashlight as a weapon, according to the police report.
Gruschow was bleeding from the mouth after the fight and Kofahl had to go to the emergency room the next day to be treated for her injuries. Police released video of the incident in February.