Posted on
Sun, Dec 30, 2012 : 5:58 a.m.
Sheriff's office expects to receive 400 more calls for service in 2012
By Kyle Feldscher
Washtenaw County Sheriff's Office deputies expect to receive almost 400 more calls for service in 2012 than they did in 2011, but many of the incidents deputies respond to remain the same.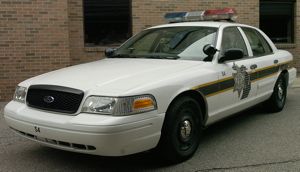 Sgt. Geoffrey Fox said Friday deputies are projected to receive 63,615 calls for service during 2012. During 2011, the county sheriff's office received 63,236, he said. He said that's right in the range deputies would expect to get every year.
"For the last 10 years, we've consistently averaged between 60,000 and 65,000 calls for service," he said. "That's right in the middle and right on pace with what we expect."
Among the calls for service, the top four things deputies responded to remained the same from 2011: residential and business alarms, traffic crashes, traffic complaints and disorderly conduct made up the top four, in that order. Juvenile problems came in fifth place in 2012, taking the place of non-aggravated assault.
Similarly, the top four crimes deputies responded to in 2012 remained unchanged from 2011. Non-aggravated assault, burglary, malicious destruction of property and larceny, in that order, were the most likely crimes deputies found on scene. In 2012, drug possession cases took the place of threats/stalking in fifth place.
Fox said responding to alarms at homes and businesses takes up much of the sherrif's office's time. Deputies patrol all of Washtenaw County, except for the cities of Ann Arbor, Ypsilanti, Saline, Milan and Chelsea; and Pittsfield and Northfield townships.
"We respond to an absolutely exorbitant amount of alarms. They take up a lot of our time," he said. "That is what it is, those are probably pretty consistent (with past years)."
The order of the calls for service and crimes deputies respond to the most might switch around, but the list for 2012 reflects what deputies are usually sent out on, Fox said.
"There might be some mixing around, but that's pretty consistent with what we deal with on a year-to-year basis and what we investigate the most," he said.
The categories for calls for service are often chosen at the discretion of dispatchers, Fox said.
For instance, juvenile problems — the fifth-most frequent call for service — can mean anything from a child having an argument with a parent that requires police involvement to loud children in the street bothering a neighbor. Fox said juvenile problems can also sometimes be designated as disorderly subjects or family trouble.
"It's an all-encompassing category for when a juvenile is involved," he said.
Kyle Feldscher covers cops and courts for AnnArbor.com. He can be reached at kylefeldscher@annarbor.com or you can follow him on Twitter.