Posted on
Thu, Oct 27, 2011 : 6:10 a.m.
A primer on police and emergency vehicle sirens
By Rich Kinsey
Do sirens in the distance ever stir you? There is seldom a time in a city like New York when you don't hear a siren, unless it is drowned out by the cacophony of horns that are always honking. Do you ever say a silent prayer for whoever needs those sirens or for those answering the call?
Perhaps the sound of sirens just make you cranky if your windows are open and you have to sleep — soon that won't be a problem until spring.
Many times on midnights you may not hear any sirens, although emergency vehicles on calls (or "jobs") are crisscrossing the city. There is not much traffic, and it is sometimes unnecessary to wake the whole city even though, technically speaking, sirens should always be used by firetrucks and ambulances.
Emergency vehicles use their sirens to clear traffic in front of them in order to get where they are going as quickly as possible in an emergency. Fire apparatus and ambulances must use their sirens whenever they activate their emergency lights, but police cars do not need to use their sirens if they are responding to a possible crime in progress.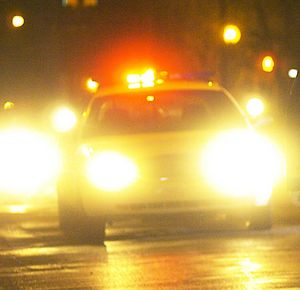 Sirens have different settings and an electronic air horn to vary the sound emitted. The normal settings usually heard are "Wail" (an electronic version of the old air sirens) or "Yelp" (which gives off a yelping sound). When a siren changes tones, like from wail to yelp, it means the operator of the emergency vehicle is approaching an intersection or more traffic or someone they are behind has not heard their siren.
The other more specialized sirens on current electronic sirens include "HiLo" (which sounds like a European siren), "Phazer" (which sounds like a high pitched ray gun — and must have been named by a Trekky) and the "Air Horn" (which hopefully sounds like an 18-wheeler and commands the same respect).
Certain sirens work in certain settings better than others. Yelp is often used in downtown areas because it bounces off tall buildings and ricochets around city streets. It wakes people up and hopefully slows them down and gets them looking around. The downside of yelp bouncing off buildings is that it is hard to locate precisely where the siren is coming from.
These more specialized sirens are also used at intersections or to arouse the attention of the most comatose, inattentive or distracted drivers. I am amazed that some of the drivers with car stereos equipped with massive subwoofers can hear a siren at all. Perhaps they rely more on optical stimuli provided by new LED toplights and the traditional million candlepower spotlights.
Sirens are also used as a tool by police officers. Officers tend to go very loudly to "jobs" where they are trying to convey to the victim to "hold on help is on the way!" This can be anything from a car crash victim to an officer who needs help.
From experience there is no better sound when you are in trouble than multiple sirens in the distancem, then V-8 engine sounds with siren, then tires squealing, engines screaming, sirens… and then, thank God, car doors opening — The Cavalry Has Arrived!
Sometimes when responding to a crime in progress, stealth is the order of the day. When far away, top lights and spotlights are used, but not the siren. If far enough away, a quick "Whoop whoop" may be used to clear an intersection; otherwise an officer must rely on the emergency lights and manually operated spotlight to get motorists' attention.
It can sometimes be rather busy "running a signal" — juggling the steering wheel (most important), radio microphone, exterior spotlight and siren switch/buttons while listening to the dispatcher, negotiating and navigating to the "job."

For those who are wondering, yes it can be fun, but it takes a lot of concentration. It can also be frightening and frustrating when you know someone needs help and you just can not seem to make any time getting to them.
It is especially frustrating running a signal while responding to calls when on the other side of the expressway. Sometimes you have to drive by the people who need your help in order to find the next available turnaround. The emergency vehicle operator feels as helpless as the person watching the flashing lights seeming to pass them by.
Sometimes a call for service is cancelled in the midst of a run. If you every see an emergency vehicle screaming through traffic and then shutting the lights down and merging into traffic, the operator was not joyriding. Sometimes calls like alarms are verified as false, or the first person on the scene of a traffic crash finds there are no injuries and thus no emergency.
Remember if you see an emergency vehicle or hear a siren, you must pull to the right as far as possible and stop unless otherwise directed by a police officer.
Lock it up, don't leave it unattended, be aware and watch out for your neighbor.
Rich Kinsey is a retired Ann Arbor police detective sergeant who now blogs about crime and safety for AnnArbor.com. He also serves as the Crime Stoppers coordinator for Washtenaw County.