Posted on
Tue, Nov 15, 2011 : 4:49 p.m.
Sketch released of man who robbed woman at knifepoint at her Ann Arbor home
By Lee Higgins
Investigators released a computer-generated sketch this afternoon of a man they said robbed a woman at knifepoint Sunday morning at the back door of her home in south Ann Arbor.
At 11:30 a.m., the 57-year-old woman returned to her home near the intersection of Jay Lee Court and Champagne Drive, got out of her car and walked to the end of her driveway to pick up the newspaper, Ann Arbor police said.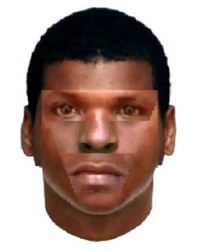 She then walked to her house, and, as she was about to enter the back door, saw something out of the corner of her eye. She turned and saw a man holding a knife, police said.
He demanded her purse, and she gave him some money from her wallet. He walked down the driveway and left the area, police said. Police said they haven't investigated any similar incidents recently in the Arbor Oaks neighborhood.
The man was described as black, with a medium complexion. He was 5 feet, 6 inches tall, 18 to 20 years old and 150 pounds. He was clean-shaven. Police said he was wearing a bright red T-shirt and black running pants with a white stripe running down each side.
Anyone with information can contact Det. Bill Stanford at (734) 794-6930, ext. 49318 or (734) 323-2628. He also can be reached by email at Wstanford@a2gov.org