Posted on
Sun, Apr 21, 2013 : 8:22 p.m.
Sketch released of suspect believed to have shot a woman in head
By Cole Bertsos
The 20-year-old woman who was shot in the head during a robbery Friday night may have been near the AATA bus stop at Washtenaw Avenue and Golfside Road shortly before the shooting, which occurred about a half mile away, Pittsfield Township police said.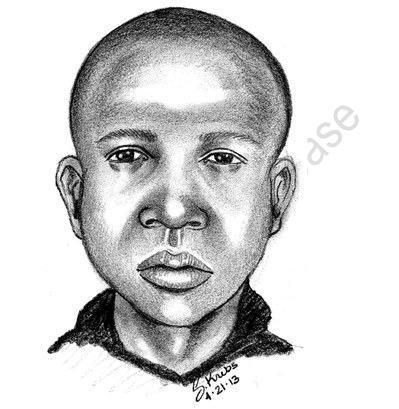 Sketch courtesy of the Pittsfield Department of Public Safety
Police released a sketch of the suspect Sunday. Pittsfield Township Deputy Police Chief Gordy Schick said he is an 18- to 20-year-old black man, about 5-foot-8 with a thin build, no facial hair and a bald head. He was wearing a hoodie and all dark clothing. He is still at large and considered armed and extremely dangerous, police said.
The woman was shot about 10:35 p.m. Friday outside of her apartment complex on the 4900 block of Lakeridge Drive in Pittsfield Township after she had gotten off work. The victim was walking to her apartment complex while wearing earbud headphones when the unknown suspect approached her with a gun and tried to grab her purse, police said.
Police did not say what leads them to believe the woman was near the bus stop before the shooting.
The man then put the gun to her head and told her to remove her clothing while forcing her to the ground, police said At that point, the victim began fighting back and the man shot her in the left side of her head, according to police. No sexual assault took place.
Police are asking people using AATA in the area of Washtenaw Avenue and Golfside Road to be alert and aware of their surroundings at all times.
The investigation continues, but anyone who believes he or she has seen the suspect should contact the Pittsfield Department of Public Safety at (734) 822-4911 or the confidential tip line at (734) 822-4958 immediately.