Posted on
Tue, May 14, 2013 : 6:46 p.m.
Student guilty of swinging crutch in Huron-Pioneer brawl gets 4 months probation
By Kyle Feldscher
The Pioneer High School student who pleaded guilty to a felony assault charge from the Pioneer-Huron High School football brawl received four months probation Tuesday.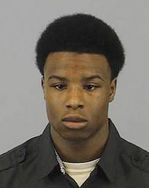 Courtesy of WSCO
Bashir Garain was sentenced on one count of assault with a dangerous weapon Tuesday. Washtenaw County Trial Court Judge Donald Shelton sentenced Garain to four months of probation under the Holmes Youthful Trainee Act. If Garain completes his probation successfully, the conviction will be wiped off his criminal record.
"I'm not a bad person," Garain said in court Tuesday. "This is just something that happened."
Garain pleaded guilty April 5 to swinging a crutch toward a group of players during the Oct. 12 brawl. As a part of a plea deal, a second count of assault with a dangerous weapon and two misdemeanor counts of assault and battery were dismissed.
Garain said he plans to graduate from high school next month and then will enroll at Washtenaw Community College to continue his education. Shelton made graduating from high school and enrolling in college a condition of his probation.
He also will be required to pay $1,741 in court costs and fees. He said he plans to get a couple of jobs during the summer to pay those costs off.
Three students were charged in the brawl that began after a confrontation between the two teams' coaching staffs. The coaches met near midfield and began a verbal altercation that turned physical when assistant coach Vince Wortmann shoved Huron head coach Cory Gildersleeve.
Wortmann was not charged because prosecutors ruled he believed he was defending Pioneer head coach Paul Test. Wortmann was fired after the incident. Both head coaches have since resigned.
None of the coaches were charged in the melee, which has ruffled the feathers of community members and resulted in protests before many of the teens' court hearings.
One 17-year-old student, who was 16 when charged as a juvenile, was found responsible for an assault during the brawl was sentenced to six months of probation and a $50 fine last month. He too would have the conviction expunged from his criminal record if he completes probation successfully.
However, his family plans to appeal the probation sentence. The teen was found responsible for assaulting Will Harris during the brawl, but denied ever touching Harris.
A second 17-year-old boy charged as a juvenile rejected a plea offer that would have included similar deals Garain and the other teen received. He has a jury trial scheduled for June 24.
Kyle Feldscher covers cops and courts for AnnArbor.com. He can be reached at kylefeldscher@annarbor.com or you can follow him on Twitter.