Posted on
Mon, Apr 8, 2013 : 2:42 p.m.
Student pleads guilty in Huron-Pioneer football melee case
By Kyle Feldscher
One of the students charged in the Pioneer-Huron football melee in October pleaded guilty to an unknown charge Friday, according to a Washtenaw County Prosecutor's Office official.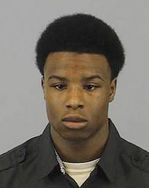 Courtesy of WSCO
Bashir Garain pleaded guilty in his criminal case, according to Washtenaw County Chief Assistant Prosecutor Steven Hiller. Garain faced four charges, however, it's unclear which one he pleaded guilty to, and Hiller couldn't release that information.
"The Bashir Garain case was resolved by a plea of guilty pursuant to agreements between the parties and the Court," Hiller said in an email. "Provisions of the Michigan Code of Criminal Procedure that now apply to this case prohibit this office from releasing further information about the case at this time."
Garain faced two charges each of assault with a dangerous weapon and assault and battery. Assault with a dangerous weapon is a felony charge and assault and battery is a misdemeanor charge.
Court records were not updated with information about the case Monday afternoon. Walter White, Garain's attorney, did not immediately return a call seeking comment Monday afternoon.
Garain was accused of swinging a crutch toward a group of players during the brawl after the Pioneers defeated the River Rats on Oct. 12. Police identified him on a video released to AnnArbor.com in December.
Garain turned down opportunities to take a plea deal in the case multiple times earlier this year.
The trial in the case was scheduled to begin Monday, but Garain instead went before Washtenaw County Trial Court Judge Donald Shelton on Friday. Hiller said the plea was taken on Friday in order to not inconvenience those called for jury duty.
"When a case is resolved in advance of trial every effort is made to take the plea before the day of trial in order to avoid bringing in a panel of jurors needlessly," Hiller said. "The courts, likewise, always try to accommodate early pleas."
The fight, and the ensuing court cases for three students charged with crimes, became a lightning rod for controversy since it occurred, with organized groups alleging racial inequities in charges stemming from the fight.
Garain and two juvenile students, all of whom are black, were the only people charged in the brawl. Some are upset with Washtenaw County Prosecutor Brian Mackie for not charging coaches from Huron and Pioneer who started the fight.
The two teams were shaking hands when Huron head coach Cory Gildersleeve and Pioneer head coach Paul Test came together at midfield. A heated argument about the game ensued and Pioneer assistant coach Vince Wortmann shoved Gildersleeve, who Wortmann believed was threatening the smaller Test.
The incident kicked off from there, with players from both teams coming together. The two juvenile students are charged with kicking Huron student Will Harris in the face during the scuffle, sending him to the hospital with a concussion and a laceration on his face.
AnnArbor.com is not naming those students because they are juveniles.
Wortmann was fired and Test and Gildersleeve both eventually resigned from their positions. Washtenaw County prosecutors declined to charge Wortmann because he believed he was defending Test.
Garain remains free on a personal recognizance bond. It's unknown at this time when he will be sentenced.
Kyle Feldscher covers cops and courts for AnnArbor.com. He can be reached at kylefeldscher@annarbor.com or you can follow him on Twitter.