Superior Township man charged with unarmed robbery, resisting arrest
Posted on Mon, Oct 15, 2012 : 12:40 p.m.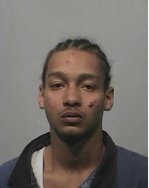 Courtesy of the Washtenaw County Sheriff's Office

A 22-year-old Superior Township man was arrested on suspicion of unarmed robbery after he was accused of assaulting a man while breaking into a parked car in Ypsilanti Township Friday, police said.

Willie Collins was arraigned on charges of unarmed robbery; assaulting, resisting or obstructing a police officer; larceny from a vehicle; and stealing a financial transaction device for the incident reported at 2 a.m. Friday in the 1300 block of Chestnut Drive. Deputies said Collins was breaking into a vehicle in the parking lot when a man approached him and attempted to make him stop.

Collins is accused of assaulting the man and running away from the scene. The man gave deputies a detailed description, and the first deputy on the scene located Collins nearby, police said.

Deputies said they found a number of stolen items were found in Collins' possession after he was apprehended. Among the items were a GPS, bracelet, sunglasses, MP3 player and credit cards, deputies stated. Collins confessed to going into the unlocked car and stealing the items, deputies said.

He was arraigned Saturday at the Washtenaw County Jail. He was held there and given a $10,000 cash bond, according to deputies. He's also been charged with violating his parole for an unarmed robbery conviction stemming from a 2007 incident.

Collins is scheduled to be in court for a preliminary exam at 8:30 a.m. Oct. 23, according to deputies.