Posted on
Wed, Jan 23, 2013 : 12:23 p.m.
Police: Alleged gunman caught after crashing vehicle during chase
By John Counts
Police arrested a 22-year-old Ypsilanti Township man suspected in a shooting earlier this month after a car and foot chase Saturday night.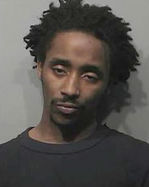 Courtesy of WCSO
Robert Taylor Brown, who is accused of shooting a 21-year-old Detroit man multiple times in the legs on Jan. 6, led police on a chase in the area of Holmes Road and North Harris Road in Ypsilanti Township around 11:15 p.m. Saturday, police said.
The chase started when deputies from the Washtenaw County Sheriff's Office witnessed a vehicle being erratically driven and attempted to pull it over near the intersection of East Forest and Hollis avenues, said Sgt. Geoff Fox.
Brown attempted to flee from deputies in the car, but lost control of it and crashed into numerous parked cars in the 300 block of Harris, Fox said.
Police say Brown fled on foot and deputies chased him for several blocks until apprehending him in a nearby neighborhood.
Brown was arraigned Monday on charges of fleeing and eluding police, resisting arrest, possession of marijuana and leaving the scene of a hit and run accident.
In the shooting, Brown has been arraigned on charges of assault with intent to murder, assault with intent to do great bodily harm less than murder, firearm possession and felony firearm.
At 11:12 p.m. Jan. 6, Ypsilanti police were called to a residence in the 400 block of Worden Street for a report of shots fired. Witnesses said two men were fighting about a stolen iPod inside the house when Brown allegedly shot the Detroit man with a small-caliber semi-automatic handgun, Ypsilanti police Sgt. Thomas Eberts said. The men were acquainted.
The 21-year-old Detroit man was released from the hospital soon after the incident. He is still recovering from his wounds, but "is doing well," Eberts said.
Brown is being held at the county jail with a combined bond of $125,000 for both cases, according to jail records. He is scheduled to appear in court on Jan. 29.
John Counts covers cops and courts for AnnArbor.com. He can be reached at johncounts@annarbor.com or you can follow him on Twitter.