Posted on
Mon, Nov 14, 2011 : 5:28 p.m.
Teenager convicted of groping patient at U-M Hospital may only serve days in jail
By Kyle Feldscher
The teenager charged with groping a woman while she was in a hospital bed with broken bones in August at the University of Michigan's C.S. Mott Children's Hospital may only serve several days in jail.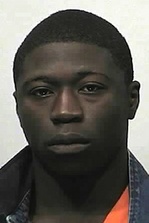 Soumo Kennedy, who was 17 when he was charged in September, was sentenced to six months in the Washtenaw County Jail by Washtenaw County Trial Court Judge Melinda Morris on Monday.
However, for the first two months of that sentence, Kennedy will be jailed on the weekends, entering at 6 p.m. on Friday and leaving at 6 p.m. on Sunday.
Morris said if Kennedy holds a job working at least 30 hours per week or becomes a full-time student, he would not have to serve the remainder of the sentence.
Morris also sentenced Kennedy to five years of probation. He will have to register as a sex offender, have no contact with any individual under the age of 17 unless approved by his probation officer, will not be allowed to possess a computer for any reason other than school and complete sexual offender treatment.
"(Your) chances of rehabilitation are high," Morris said to Kennedy.
Kennedy pleaded guilty in October to fourth-degree criminal sexual conduct. The charge stems from Kennedy's admission that he touched the buttocks of a female patient without permission on the night of Aug. 20 at Mott Children's Hospital.
Kennedy was originally charged with second-degree criminal sexual conduct and assault with intent to commit sexual penetration, along with fourth-degree criminal sexual conduct.
Prosecutors dropped the assault with intent to commit sexual penetration charge as a part of a plea deal. The second-degree criminal sexual conduct charge was mistakenly added onto the case and was dismissed.
The mother of the victim, who will not be identified by AnnArbor.com in order to protect the victim, spoke in court directly to Kennedy, telling him that he changed a young girl's life. She said her daughter is now in counseling to help her get over the incident, which occurred when she was being treated at the hospital for broken bones.
The victim's mother said Kennedy watched her help her daughter into a wheelchair simply to get to the bathroom. She said hospital staff allowed Kennedy to stay overnight at the hospital, after visiting hours, and he took advantage of her daughter.
"It's a human being we're talking about here," she said. "I don't want these things to go unnoticed, especially in a hospital."
Kennedy previously ran away from a foster home that he was assigned to as a part of probation for a juvenile conviction. He had no previous convictions as an adult and this is the first felony on his criminal record, according to his lawyer, Assistant Public Defender Stephen Adams.
Kennedy apologized to the victim's mother for the incident and said he wished he could apologize directly to the victim.
"I'm sorry for hurting her daughter. It's eating me up on the inside and it's messed up my life," he said.
Kyle Feldscher covers cops and courts for AnnArbor.com. He can be reached at kylefeldscher@annarbor.com or you can follow him on Twitter.