Posted on
Wed, Jan 20, 2010 : 8:55 p.m.
Witnesses testify about financial losses in Ypsilanti Township real estate fraud case
By Lee Higgins
Attorney Mark Heusel was unable to recover the $43,000 one of his clients paid toward construction of a condominium unit in Ypsilanti Township that was never completed, he testified today.
The developer of Crystal Pond Condominiums didn't deposit the money in an escrow account, which is required by law and specified in the 2005 purchase agreement, Heusel testified.
Heusel's testimony came during the second day of the preliminary hearing for Robert George, who was the head of Crystal Pond Inc.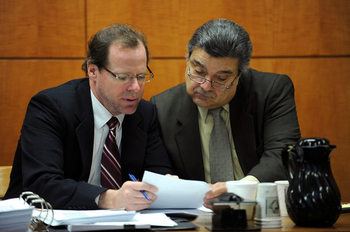 George is charged with 28 criminal counts, including obtaining money under false pretenses in excess of $20,000, larceny by conversion and fraudulent use of building contract funds.
George, who was president of Crystal Pond, Inc., is accused of defrauding homebuyers and subcontractors out of roughly $700,000.
Only two of 14 units in the project were completed, Washtenaw County sheriff's investigators said. Deputies say the rest were only partially built and accuse George of keeping deposits and other money for personal use.
Total losses, including those sustained by banks in Washtenaw and Monroe counties - where George took out construction loans - is estimated at $20 million, investigators said.
George filed for bankruptcy on Sept. 27, 2005, federal bankruptcy court records show.
Attorney Heusel also testified that after inquiring about getting his client's money refunded, he was forwarded an e-mail dated Oct. 11, 2005 that George wrote.
In the e-mail, which was sent 14 days after the bankruptcy filing, George claimed construction was ongoing, Heusel testified.
Ethel Kehrberger testified that she lost $120,000 in the alleged scheme, paying for a unit that was never completed.
When she signed the purchase agreement, George told her a ramp would be built at her unit to accommodate her because she was handicapped, she testified.
On Feb. 25, 2005, she visited an office at the development to hand over a $50,000 check, which was a portion of the money she lost, she said.
A female employee put the check in a desk drawer, she testified. A male employee then gave her some news, she said.
"We aren't going to be able to build a ramp," he told her, she testified. The employee told her it wasn't specified in the contract.
"I don't know if I can express…how I felt," she said.
Ella Reinhard, who wrote more than $127,000 in checks to Crystal Pond, Inc., testified her condo was nearly finished in the spring of 2005.
In April 2005, George told her the unit would be ready in June 2005. But it wasn't. She was then told it would be ready on July 11. Again, it wasn't, she said.
She hired an attorney in August, but never closed on the unit or recovered her money.
"Apparently, years later (the condo) was finished and sold by a bank or someone," she said.
The hearing is scheduled to continue Jan. 28.
Lee Higgins covers crime and courts for AnnArbor.com. He can be reached by phone at (734) 623-2527 or email at leehiggins@annarbor.com.