Posted on
Thu, Jun 30, 2011 : 5:58 a.m.
Even in safe Ann Arbor, beware of the peril of summer 'beat downs'
By Rich Kinsey
Ann Arbor is a world-class town and statistically very safe. There is a lot to do in and around Ann Arbor and Washtenaw County.
Certainly in this great land of ours a person should be able to walk wherever they like. The reality however is that there are times and places where the mere act of taking a stroll may not be completely safe.
A number of years ago, I tried to warn a young fellow that he should stay out of a particular neighborhood where he had just been lucky enough to escape after having gunshots aimed and fired at him. He rather arrogantly informed me that he walked and went wherever he wanted.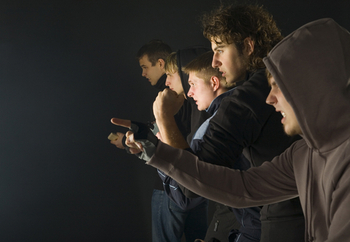 Redbaron | Dreamstime.com
I told him he was right and that our forefathers fought for his right to do just that. However I told him there was such a thing as being "dead right."
I explained that a truck bearing down on an intersection honking his horn because he cannot stop at a red light did not prevent a pedestrian from stepping out into the crosswalk in front of the truck --especially if the signal indicated the pedestrian could cross. The pedestrian would be absolutely within their legal right to walk out and expect the truck to stop. They might be "dead right" (as in dead right there) because in reality the laws of physics and kinetic energy sometimes trump the Michigan Motor Vehicle Code or the U. S. Constitution.
Perhaps I am traumatized by what I have seen or read over the years, but there are times -- like nighttime -- that one should consider walking with a friend or friends, a dog or consider a cab ride. It has been my experience that lone pedestrians are most at peril during the late night and early morning hours of darkness when they venture off the well-lit main thoroughfares of downtown.
If to escape the heat you should venture outdoors for a stroll in the evening, take a friend with you.
If while walking, you should pass a group of youths who say something derogatory to you or your friend, it is best to ignore them. This is a very common occurrence in the summer near bars and summer events during the evening hours.
If the pedestrian insulted engages in an understandably indignant back and forth dialogue with the group, chances are they will get roughed up and perhaps robbed when knocked down to the ground. These summer "beat downs" are fairly common.
The victims in these "beat downs" are usually high school or college aged males who are vulnerable and very reactive to insults about manhood or the appearance of their date. Those slinging the insults are groups of similar aged youths who are merely playground bullies with a driver's license in their group giving them a longer reach.

Somehow the youthful groups of ruffians believe that getting in a fight -- with a large group of friends behind them in case the predator becomes prey -- give them "street creds" (i.e. tough reputation).
These roving bands of thugs usually do not victimize older men. Either it is wisdom from experience or sagging testosterone levels, but most men have learned to shrug off and walk away from idiotic playground talk trying to goad them into a fight against a numerically superior group of man-sized children.
If such groups are spotted or overheard, the police should be called. The police can monitor the group and perhaps prevent someone from receiving a broken cheekbone, nose or broken teeth over something as stupid as playground talk.
Am I picking on groups of young males here? Perhaps, but I have not encountered or read any police reports about groups of middle-aged men or women walking down streets at night looking for trouble or to get into a fight. (Out of country soccer hooligans may be an anomaly to this generalization).
Don't get me wrong, middle-aged people get drunk or foolish and into fights on occasion, but not usually in groups.
Enjoy the nightlife in Ann Arbor; it really is a safe town with a lot of great nightlife. When your event is over however, just go home. Do not hang around on the street. Stay out of the back alleys and unlit streets unless you are with a group and do not enter into verbal jousting matches with a foul mouth surrounded by a group.
Lock it up, don't leave it unattended, be aware and watch out for your neighbors.
Rich Kinsey is a retired Ann Arbor police detective sergeant who now blogs about crime and safety for AnnArbor.com. He also serves as the Crime Stoppers coordinator for Washtenaw County.