Posted on
Fri, Nov 13, 2009 : 12:50 p.m.
Liquor license suspension lifted at The Party Store in Superior Township
By Lee Higgins
Washtenaw County sheriff's deputies are hopeful The Party Store in Superior Township will partner with them to continue to cut down on crime in the MacArthur Boulevard neighborhood.
The state Liquor Control Commission lifted the suspension of the liquor license at The Party Store on Thursday. 
An agreement was reached with the state attorney general's office. The suspension will be lifted, provided the store stops selling liquor at 10 p.m. each night and hires a private security guard to work from 5 p.m. to close.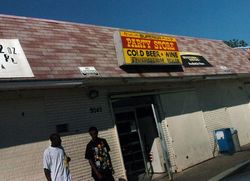 Melanie Maxwell | AnnArbor.com
Derrick Jackson, the sheriff's department's director of community engagement, said investigators were never interested in "shutting down" the store, but simply "improving the quality of life" for residents. He's waiting to see whether the store will work with deputies.
"We're gonna continue to focus in that area and patrol in that area," he said. 
Deputies identified the store as a hotspot of criminal activity and investigated it for drug activity during a crackdown on crime in the MacArthur Boulevard neighborhood this summer. The license had been suspended since Aug. 16.
State Police Lt. Monica Yesh, who oversees the Livingston and Washtenaw Narcotics Enforcement Team, said the investigation involving the party store is continuing.
Attorney Jeffrey Lance Abood, who represents the store's owner, Ziad Abuziad, said the goal of the agreement is to work with deputies to reduce crime.
Township Supervisor Bill McFarlane is hopeful the presence of a security guard will help safeguard the area, but also is waiting to see.
"We continue to have concerns because of the allegations that warranted the hearing in the first place," he said. "If they adhere to the law, there will be no problems. If they do not adhere to the law, there will be issues in the future."
Lee Higgins covers crime and courts for AnnArbor.com. Reach him at leehiggins@annarbor.com or 734-623-2527.