Posted on
Thu, Jul 7, 2011 : 5:58 a.m.
The spectacle that is the Ann Arbor Art Fair
By Rich Kinsey
Love it or hate it, the circus that is the Ann Arbor Art Fair is coming to town in less than two weeks.
Running from July 20-23 the Ann Arbor Art Fair will bring an estimated 500,000 people into the downtown area according to the Ann Arbor Area Convention and Visitor's Bureau. That is a lot of business, a lot of revenue, a lot of people and a lot of organized chaos around town.
Most locals have a strong opinion about the Art Fair. For merchants, restaurateurs, and artisans it means opportunity.
For locals that work in the downtown area in other fields it means getting knocked out of "your" daily parking spot and having to change comfortable traffic routes in and around the downtown area. It means having to leave for work early, as if for a snow emergency, in order to find somewhere to park.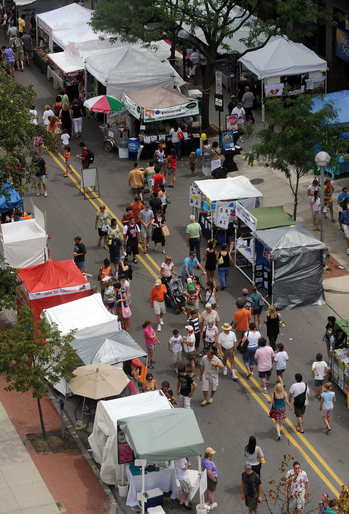 Melanie Maxwell I AnnArbor.com
There are many things that are predictable about the Art Fair. It will be hot and it will be crowded. There will be an afternoon or evening thundershower that sends crowds scurrying and artists trying to cover their works from the weather.
Out of the hundreds of thousands who enjoy the spectacle there will be a handful that find criminal opportunities. No matter how much the organizers educate the artists there will be thefts from booths. It is almost inevitable because of the crowds and chaos. Those who staff the booths must remember to "lock it up, don't leave it unattended, be aware and watch out for your neighbors."
Do not leave valuables like wallets, purses or laptop computers close to the rear of the booth where light fingers can reach in undetected and make off with them. Keep the smallest most concealable items for sale close your workstation in the booth so that you can keep an eye on them. Keep your cash drawer in a safe place where a thief cannot just walk by, reach in and make a quick "till tap" of bills from the drawer. If you accept checks, do not accept out of state checks. Stick to credit cards or cash.
For artists take pictures of your most expensive pieces and have them available for the police should those pieces be stolen. Not many expensive pieces get stolen, but it happens every few years. For those staffing booths, watch out for your neighbors' booths as well. If you see someone acting suspiciously or stealing something alert your neighbor of what is going on.
For visitors take the normal precautions while shopping. Keep your treasures in the trunk or otherwise out of sight of thieves looking into vehicles. Keep wallets and purses secure.
Women should consider carrying only a wallet while attending, but if carrying a purse keep it zipped, buttoned or snapped so no one can reach in and steal your wallet. Keep your purse firmly grasped and do not set it down to look at merchandise.
For men keep your wallet in your front pants pocket and consider wrapping a rubberband around the wallet so it won't slide out of that pocket. The added friction makes it more difficult for pickpockets to slide your wallet out of your pocket as well.

Remember the jostling that goes on in crowds are great environments for pickpockets to operate. Remember the crowds are substantial and the going is slow. Take your time and enjoy the spectacle.
Be considerate of those with mobility problems, because the crowds add all kinds of unexpected obstacles. I am a dog lover, but the Art Fair is really no place to walk your dog.
Small children should be holding the hands of their parent or guardian or in strollers (although strollers are tough to navigate through the crowds). If by chance you are letting your child ride on your shoulders I suggest you not allow them to eat large quantities of Cheerios in the heat.
Years ago, when my eldest son was 2 or 3, he was gleefully riding on my shoulders through the crowds on State Street eating Cheerios. I heard him make a funny noise and pulled him down and asked him if he was all right. He said he was fine and wanted back up on his perch. Roughly six steps later, without time for dear old dad to react, up came the Cheerios.
It is truly amazing how much a small child can throw up at times. When the liquefied Cheerios are cascading down your hair and face at State and Liberty you might as well pause for comedic effect for the crowd -- including your gorgeous wife who is convulsing with laughter as she reaches for baby wipes to swab your dripping noggin. Hey it's Art Fair, you just have to go with it.
Lock it up, don't leave it unattended, be aware and watch out for your neighbors.
Rich Kinsey is a retired Ann Arbor police detective sergeant who now blogs about crime and safety for AnnArbor.com. He also serves as the Crime Stoppers coordinator for Washtenaw County.