Posted on
Tue, Jun 5, 2012 : 10 a.m.
Thief swipes trailer with $8K worth of used cooking oil
By Cindy Heflin
A thief made off with a trailer full of oil in Ypsilanti Township sometime in the past two weeks, but it wasn't fuel oil. It was the oil used to cook up batches of French fries and chicken fingers.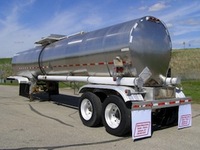 The trailer was full of used cooking oil, and the contents were valued at $8,000. The trailer itself was valued at $20,000. Cooking oil has become a hot commodity for thieves, recent
media reports
indicate.
Just how did thieves make off undetected with a 42-foot tanker full of oil? That's a mystery at this point.
The tanker's owner dropped it off two weeks ago at a business in the 1800 block of Cadillac St. in Ypsilanti Township, said Washtenaw County sheriff's Sgt. Geoff Fox. The business filled it up with used cooking oil for recycling.
At some point, the trailer went missing, likely in the last couple of days, Fox said. "We're continuing to investigate," he said. "We just haven't been able to talk to enough people to say when they last saw it."
The trailer is a 1988 Fruehauf 42 foot stainless steel tandem axle tanker trailer. Anyone with information is asked to call the sheriff's department confidential tip line at 734-973-7711 or 1-800-SPEAK UP.