Posted on
Wed, Oct 26, 2011 : 5:56 a.m.
Top Ann Arbor public safety officials to meet with Old West Side residents today
By Kyle Feldscher
Top Ann Arbor public safety officials will speak to residents of Ann Arbor's Old West Side neighborhood at a public forum today at Bach Elementary School.
Ann Arbor police Chief Barnett Jones, Ann Arbor Fire Department Chief Chuck Hubbard and Fire Marshal Kathleen Chamberlain and University of Michigan Public Safety Department Chief Greg O'Dell all will be in attendance at the meeting of the Old West Side Association. The meeting takes place at 7:30 p.m. today at Bach School, 600 W. Jefferson St.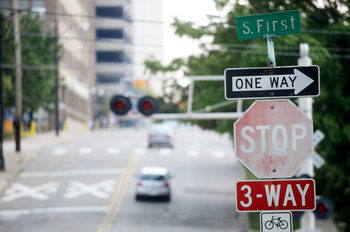 Melanie Maxwell I AnnArbor.com
Barbara Murphy
, vice president of the Old West Side Association, said the forum is for residents to have their questions answered by public safety leaders. She said there's many in the area that are worried that cuts to fire and police personnel are putting Ann Arbor residents' safety in jeopardy.
"There's been continual talk for the past few years about how there are changes but no real cutbacks in services, just cut backs in staffing, but the same services exist," she said. "But, it doesn't seem like they do."
Murphy said the public safety officials will make a short statement and then will answer questions posed to them by residents who attend the meeting. They're expected to cover how fire station closures might affect safety, what having fewer police officers on the street means for residents and how the Ann Arbor police work with the university's public safety department.
The Old West Side was the scene of the latest sexual assault believed to be related to a string of other incidents in July that made national headlines.
A 20-year-old woman was attacked and fondled on Sept. 13 on the 400 block of South First Street. The attack was the first sexual assault away from the area surrounding the University of Michigan's central campus that was believed to be related to the so-called "Ann Arbor Rapist."
Murphy said the series of sexual assaults was definitely one of the main impetuses for the public safety forum. She said the entire community was troubled by the reports of sexual assaults, even before the September incident on First Street.
"The whole series of them, capped by that one," she said after being asked if the sexual assaults played a role in holding the forum. "Even if there's not one in the neighborhood, people are concerned about crime in general."
This story has been revised to correct the time of the event.
Kyle Feldscher covers cops and courts for AnnArbor.com. He can be reached at kylefeldscher@annarbor.com or you can follow him on Twitter.